It's officially February, so you know what that means! VALENTINE'S DAY! I know some people aren't a fan of this holiday, but I think it's a great opportunity to focus on love. It doesn't have to be a romantic love. One thing I've found to be super important during this season of life is friendship. It's amazing how something so simple can have such a huge impact on your life. When you have great friends, it makes life so much better! That's why it's important to celebrate them, which is why I think Galentine's Day is such a fun idea. Basically, you just gather a bunch of your girlfriends and spend time connecting and celebrating your love and appreciation for each other….while eating tasty treats of course 😉 As a recent college grad, I completely understand the struggle of wanting to have a Pinterest-worthy party while having a Dollar Tree budget.  So, naturally, I started looking all over Pinterest to find cutesy little Galentine's Day setups that I could easily (and cheaply) recreate. That's when I ran across this cute little tablecloth tutorial from POPSUGAR. This tablecloth was extremely easy to make, and it was inexpensive…so it's a win win. I bought a plain, white paper tablecloth from Kroger and used some black acrylic paint I already had at home. Starting in one of the corners, I began diagonally drawing X's and O's until I reached the opposite corner. I think it turned out super cute! No Pinterest fail this time!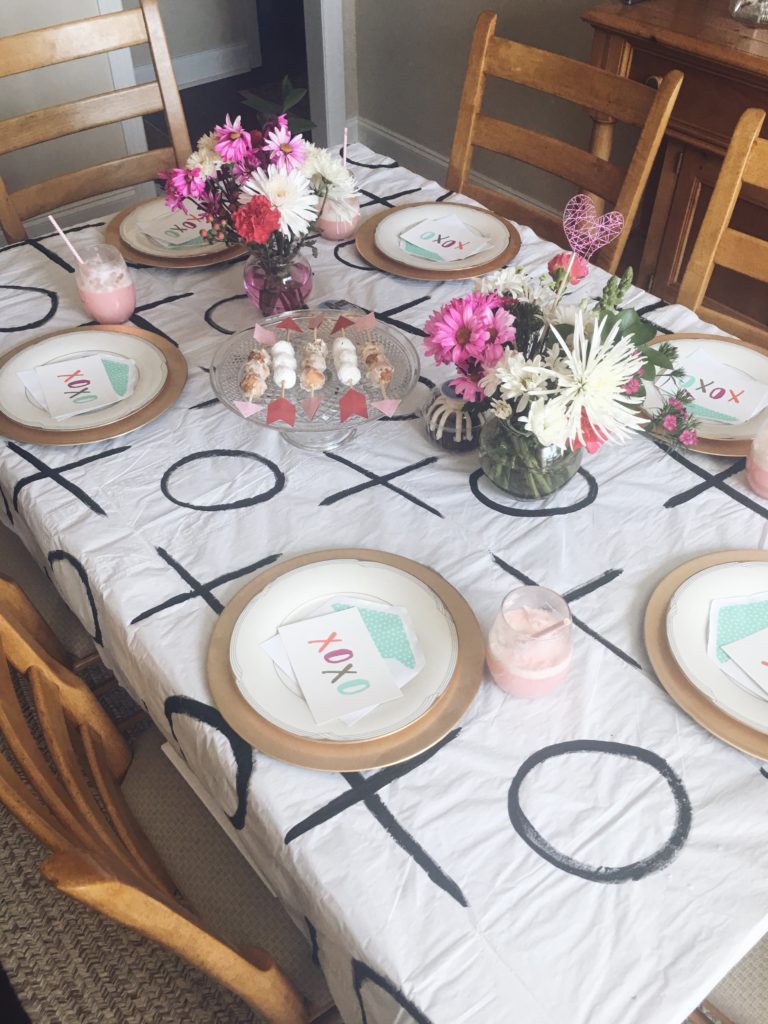 The next DIY item I created was this "No Boys Allowed" banner. If you click on the link, it will take you to a PDF that you'll need to print. Just cut out each letter and tape it to some string, then you're ready to hang it up wherever. I thought this was a fun, silly take on the classic "No Girl's Allowed" sign on little boys' clubhouses. Now it's our turn to not let them in! This banner is totally optional, though. If it's not your thing, then just be creative and design your own! Word makes it extremely easy to make one of these instead of buying one at the store.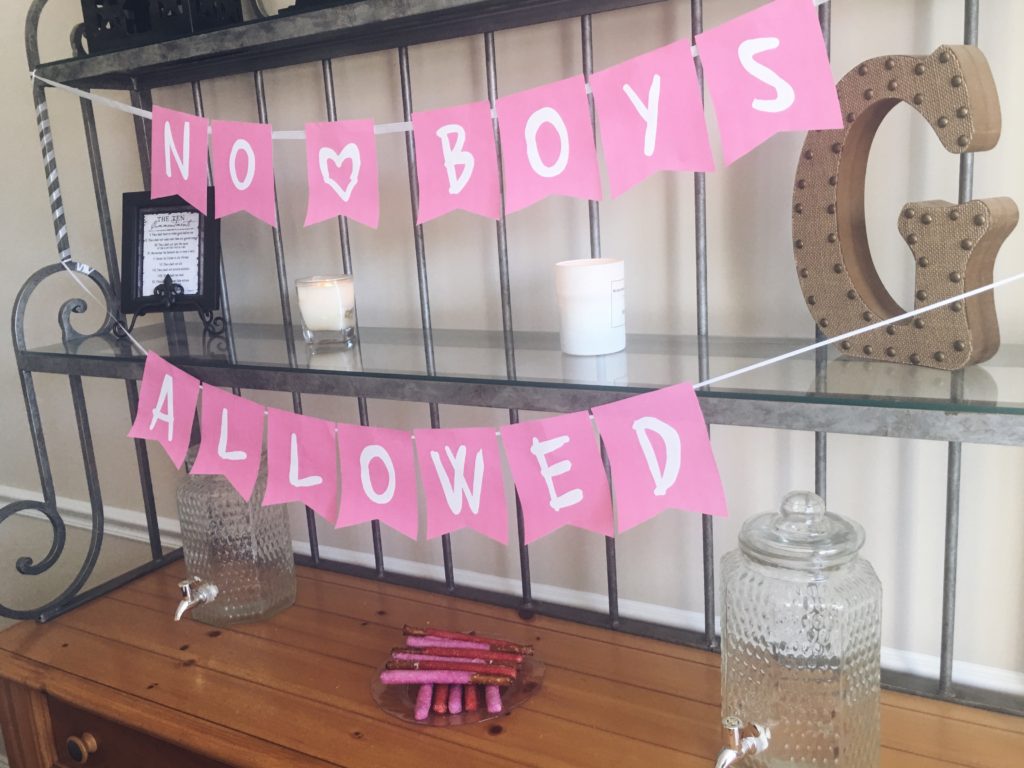 I found these simple "XOXO" cards in Target's $1 section that would make the cutest invitations. They came in a pack of 8, so you can't beat that deal!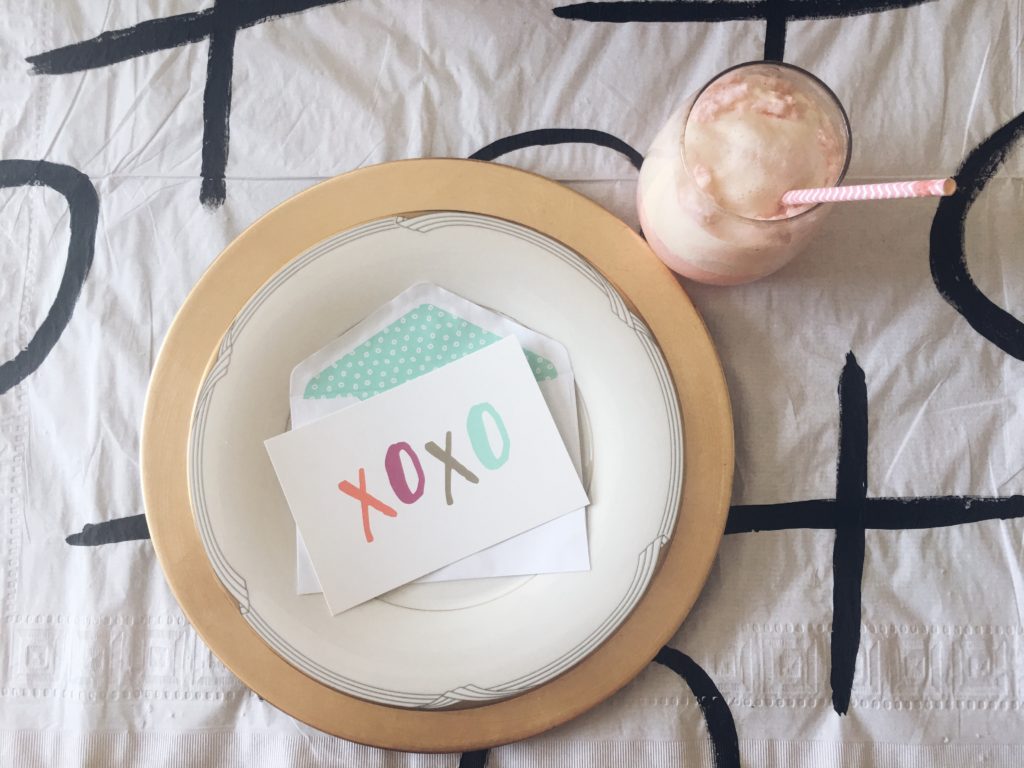 One of my favorite things I came across when looking for ideas was this free MASH printable…talk about a throwback! Does anyone else remember this? I haven't played this since elementary school, so I thought this would be a fun way to reminisce. Definitely pull these out during your Galentine's Day get together if you want a good laugh!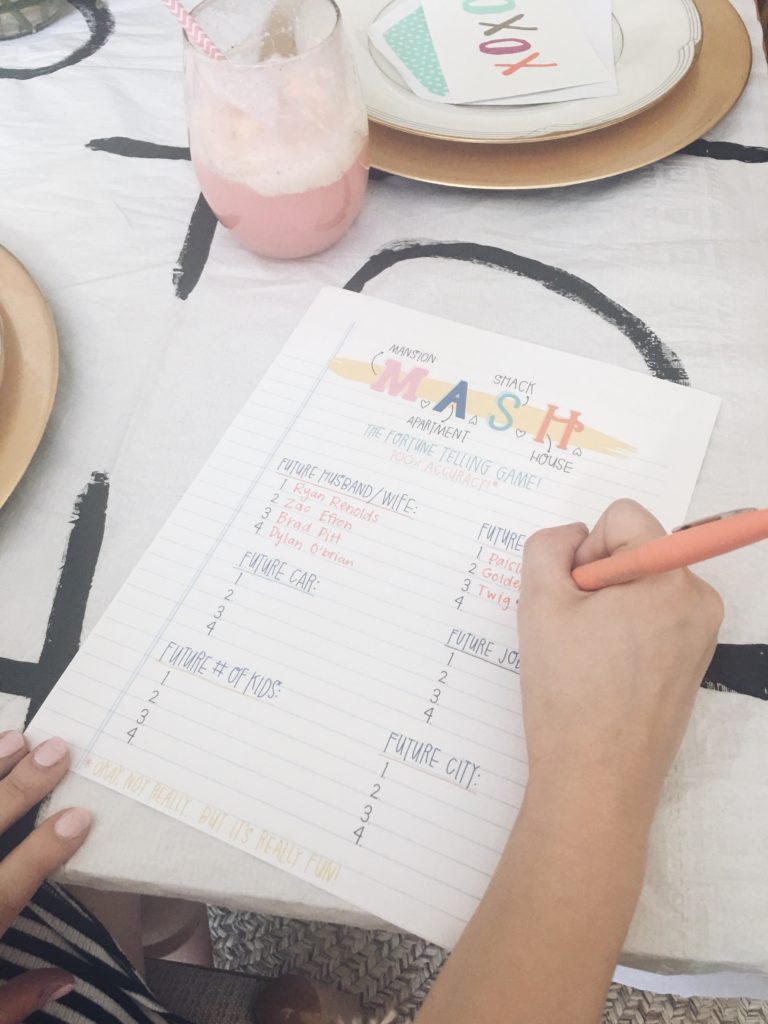 Now onto the yummy part…snacks! Who doesn't love food? But, food can be pretty expensive, so I think it would be a great idea to have a pot-luck style meal. Whether it's brunch, lunch, or dinner, if you and your friends all pitch in on the food it will cut your costs tremendously! I have a pretty strong sweet tooth, so I decided to make a couple Valentine's inspired treats to give you an idea of how inexpensive it can be, while staying true to the theme. The first treat is called Cupid's Arrow. It's literally just donut holes on a stick with an arrow head and tail placed on the ends of the stick. SO EASY. You can't mess this up! Something like this allows you to stay on budget, and look like you put a lot of time and effort into making it! I purchased two different flavors of donut holes (from my local Kroger bakery) and bamboo sticks. I also used pink and red card stock that I already had laying around the house, but you could easily go to Micheal's and buy their single pages of card stock for really cheap. I think these turned out great! This is where I found the "recipe" for this dessert. If you don't like donuts, this site has tons of other Valentine's inspired desserts for you to look through!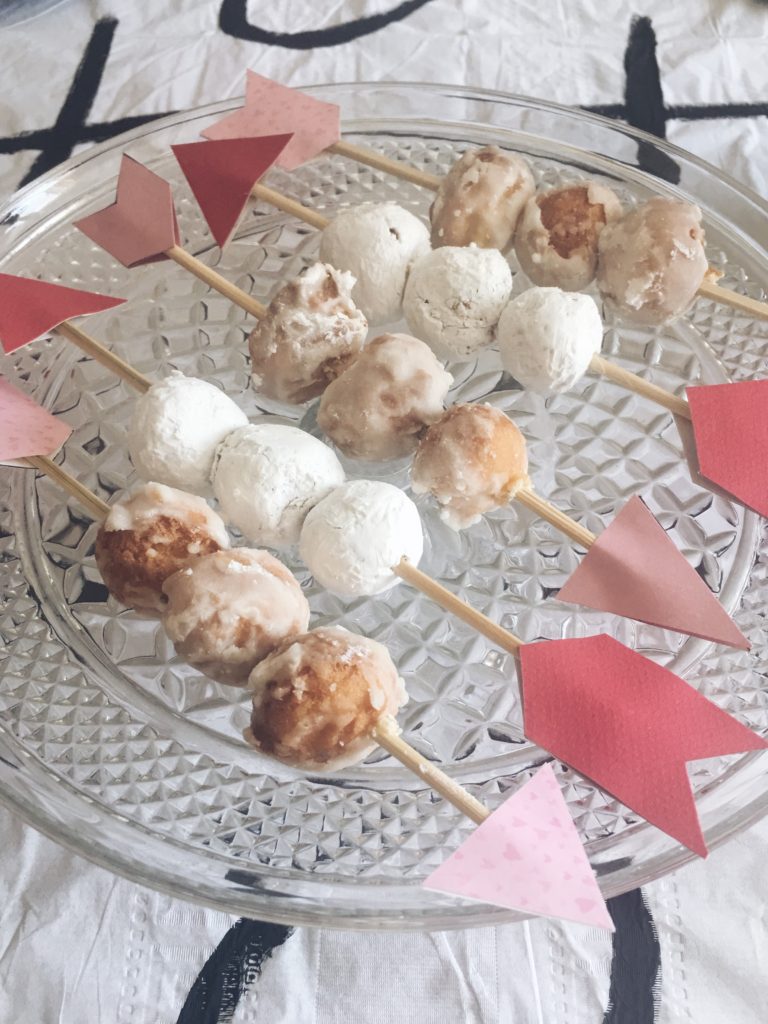 I'm a big fan of sweet and salty treats, so what's better than a chocolate covered pretzel?! Just add some pink, red, or heart shaped sprinkles and you've got yourself a delicious Valentine's Day snack. I picked up some candy coating chocolate and a bag of pretzels from Kroger. Then, I heated half a pound of the white chocolate in a microwave safe dish for 30 seconds, then intervals of 15 seconds until it was completely melted. Next, I poured the melted chocolate into a thin, tall glass (this makes it easier to dip the pretzel rod in the chocolate). I waited about 2-3 minutes to let the chocolate cool a little bit, if you don't the chocolate will be runny and the sprinkles will fall off in big globs. Once the chocolate had cooled, I began dipping the pretzel rods. I left about an inch or so at the bottom, so the pretzel could be easily held. After letting the excess chocolate drip back into the glass, I began pouring the sprinkles onto the pretzel. Once the pretzel was completely covered in sprinkles, I placed it on wax paper to cool.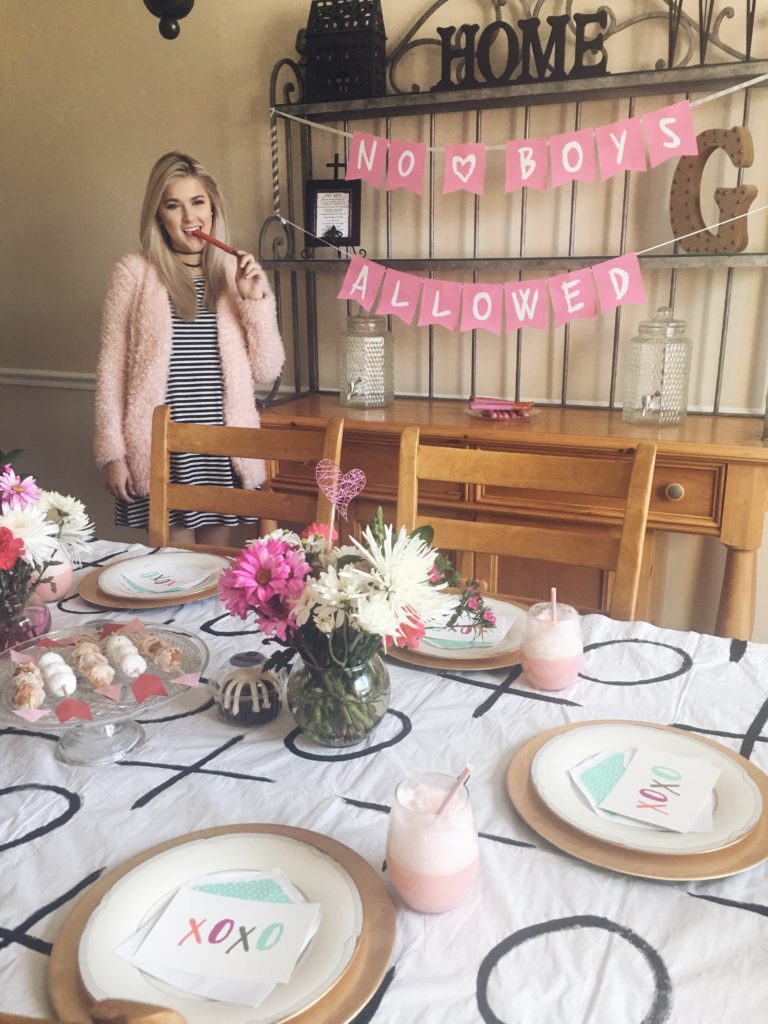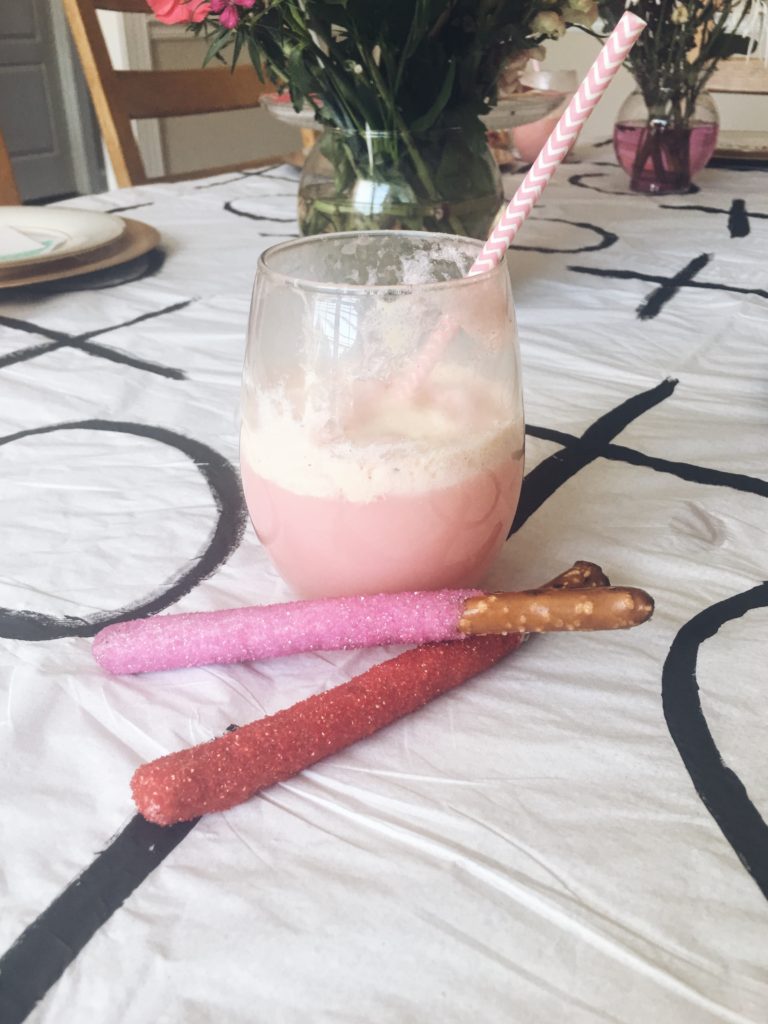 Ok, so I didn't actually make these, but they are too good not to share! Nothing Bundt Cakes has locations all over the country. Go to their website to find the location nearest to you! Seriously, these cakes may be the best thing I've ever eaten, and don't get me started on the icing. These are perfect for any occasion, not just Valentine's Day. My favorite flavors are Red Velvet, White Chocolate Raspberry, and Chocolate Chocolate Chip. Every flavor is delicious, though!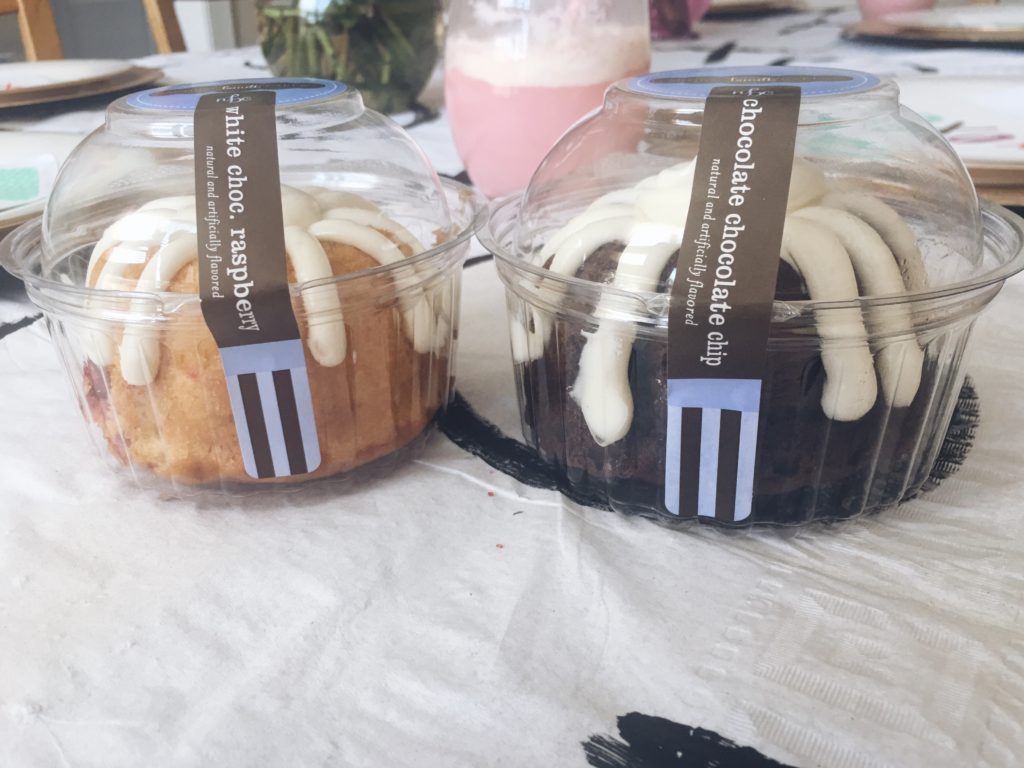 The last food item I made was a Cupid Float. All you need is vanilla ice cream and Cherry 7 Up…definitely the easiest thing I made. I love simple little details that pull a whole look together, so I purchased some cute straws from Target to complete this Valentine's Day drink!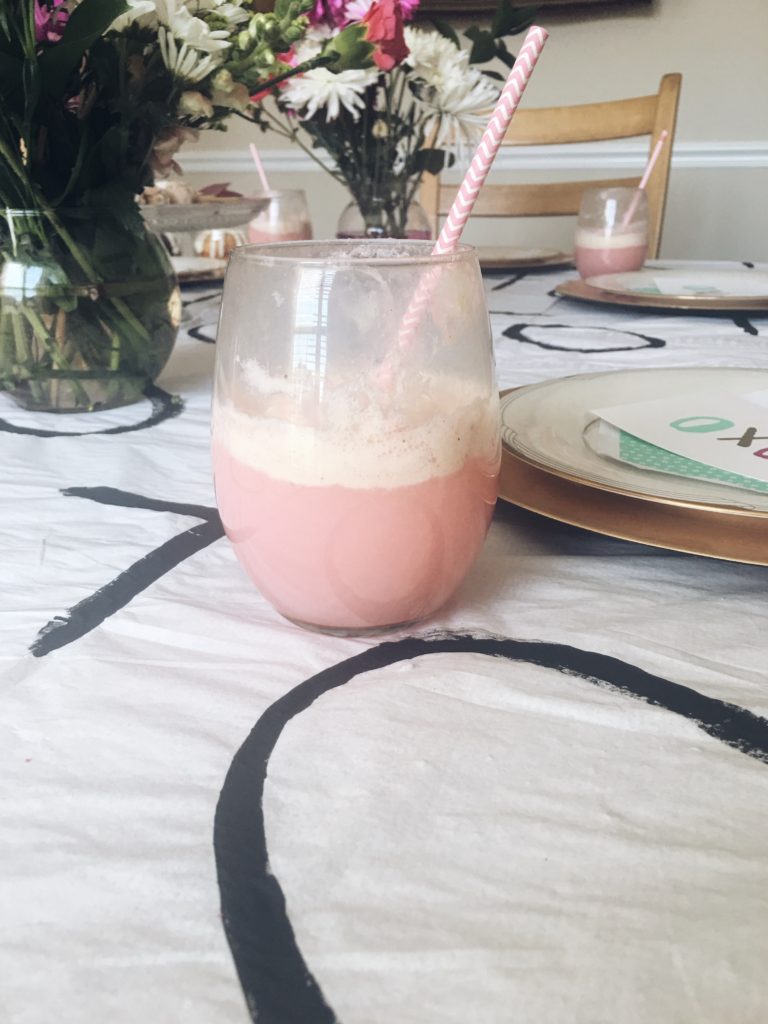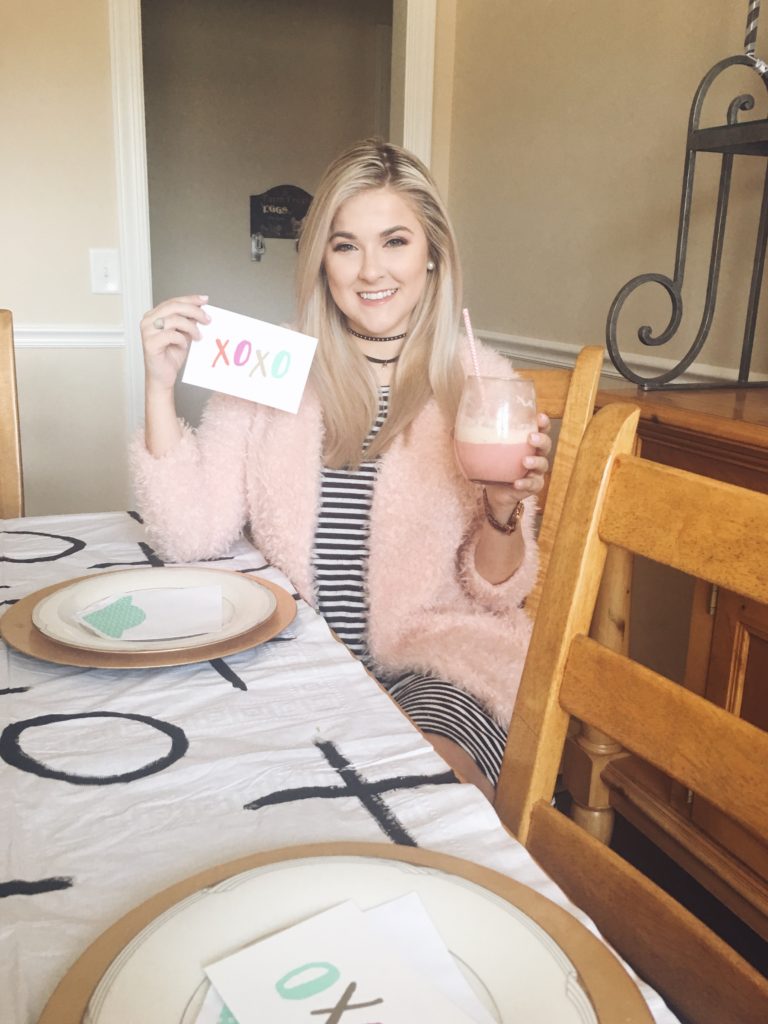 Even Paisley wanted to join in!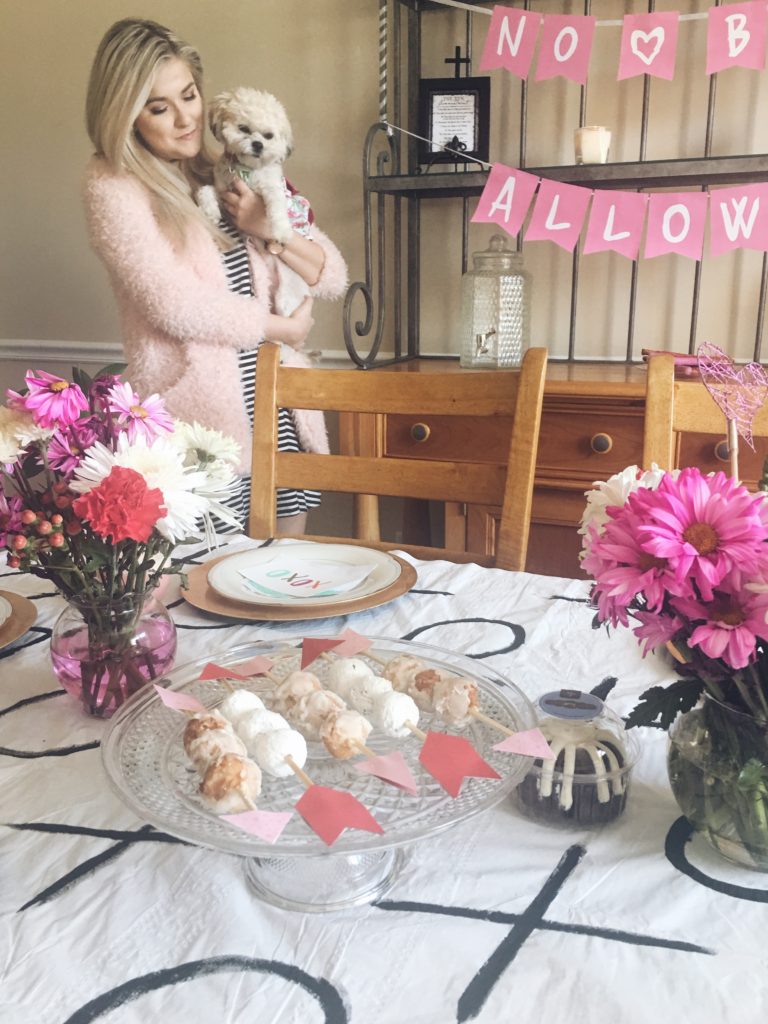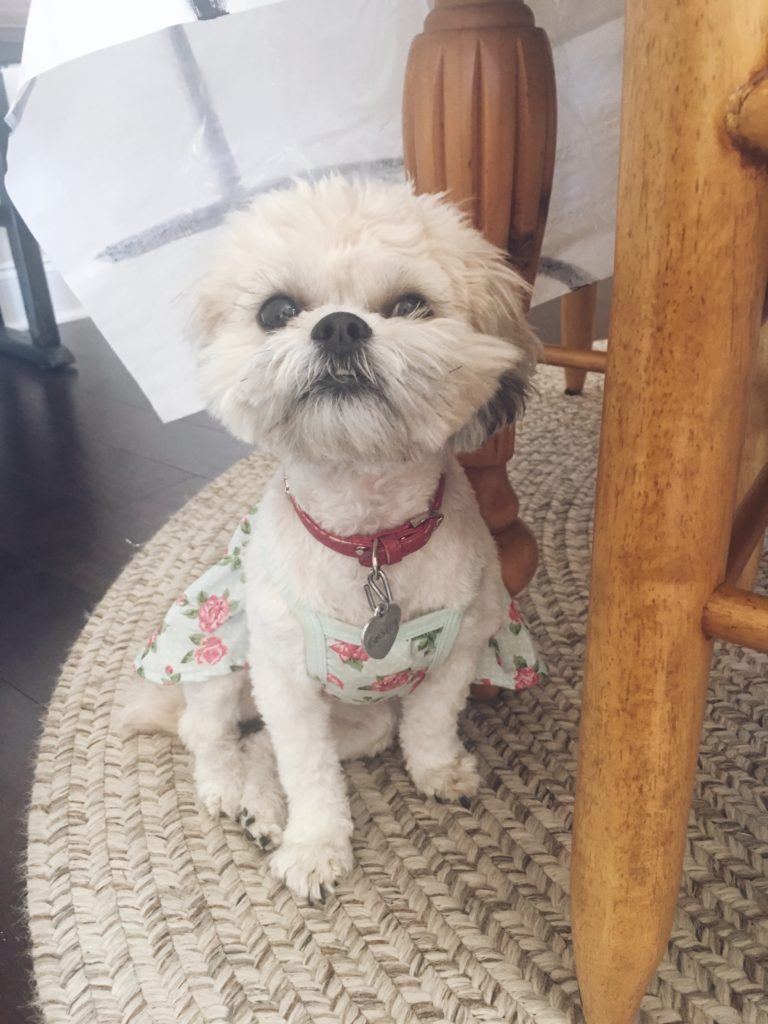 Look at that sweet face!
Valentine's Day can be a wonderful reminder to spread love to those you care about. Whether it's your siblings, parents, friends, or even a stranger, try to spread love to everyone you come in contact with. Lord knows our world could use a little more love right now! DO you have any plans for Valentine's Day? If you know of any more cheap recipes or decorations, please share! I'd love to hear your ideas. Links to my dress and sweater can be found below. Have a great week!
Dress (old from Ross) – similar here, here, and here