One of the biggest trends I've been noticing lately is monochromatic outfits. When I first started thinking about trying to pull off this trend, I was intimidated. In my mind this was the ultimate "matchy-matchy" nightmare. Up until this point, I've been told not to wear too much of the same color at once, so wearing nothing but one color seemed crazy. However, if done correctly, monochromatic outfits can be super chic! In my opinion, the key to pulling this look off is incorporating multiple different textures, material, and even shades. If you want to test the monochromatic waters, I'd suggest starting with something safe: all black. I'm sure we've all worn an all black outfit before, but try to play around with different elements. I paired some basic black jeans with a black, ribbed turtleneck and a cropped leather jacket. This is where the fun part comes in. I decided to step outside of my comfort zone by wearing a faux fur vest over the leather jacket. I think this just gives the outfit a really cool and different layered look. The denim, leather, and fur pair really nicely together without going overboard. For the shoes, I went with a really simple leather studded ankle boot. These booties have a low, block heel, so they're super comfortable for all day wear. If you want to go for more of a street style look, you can swap out the booties for a pair of black sneakers. I've linked all these pieces at the end of my post.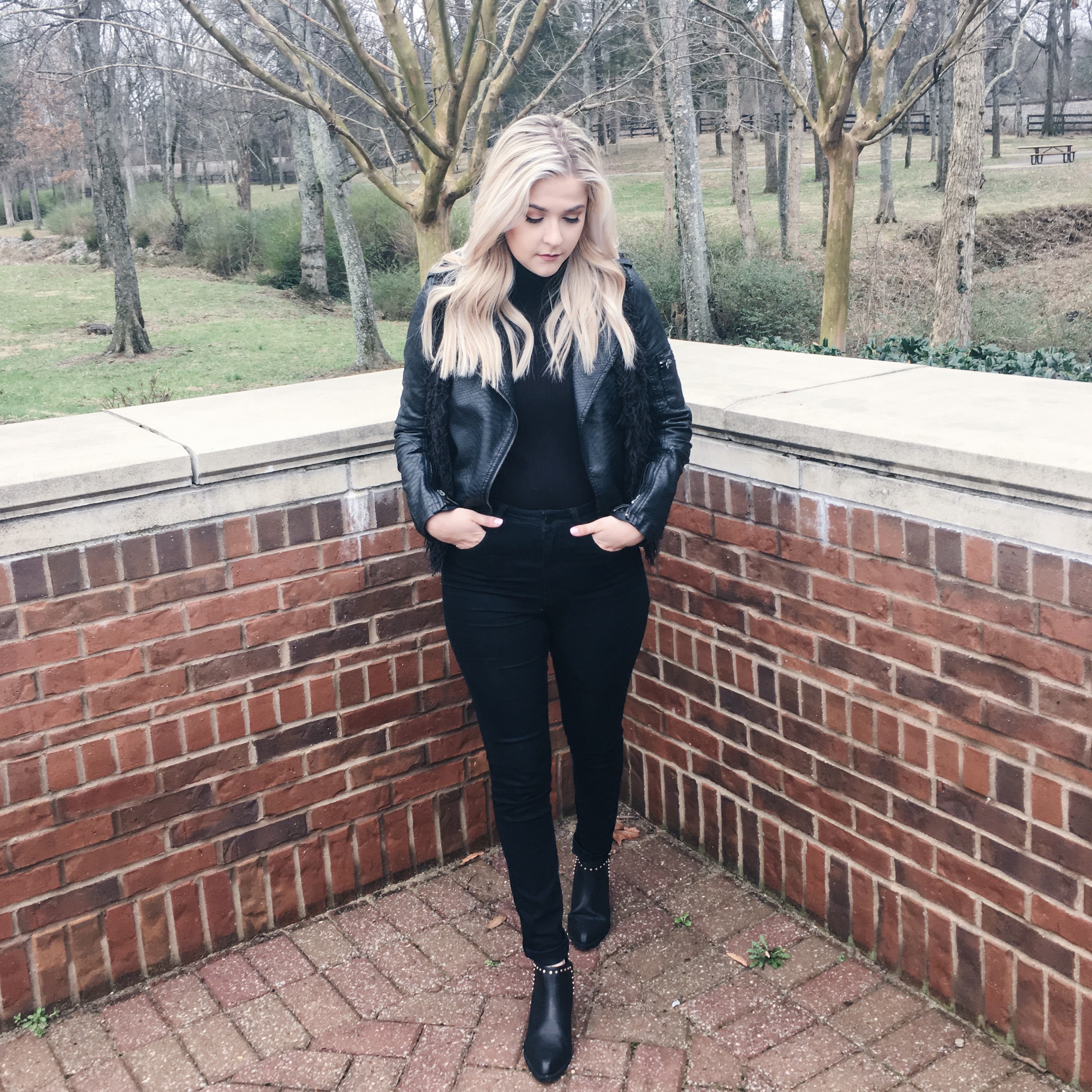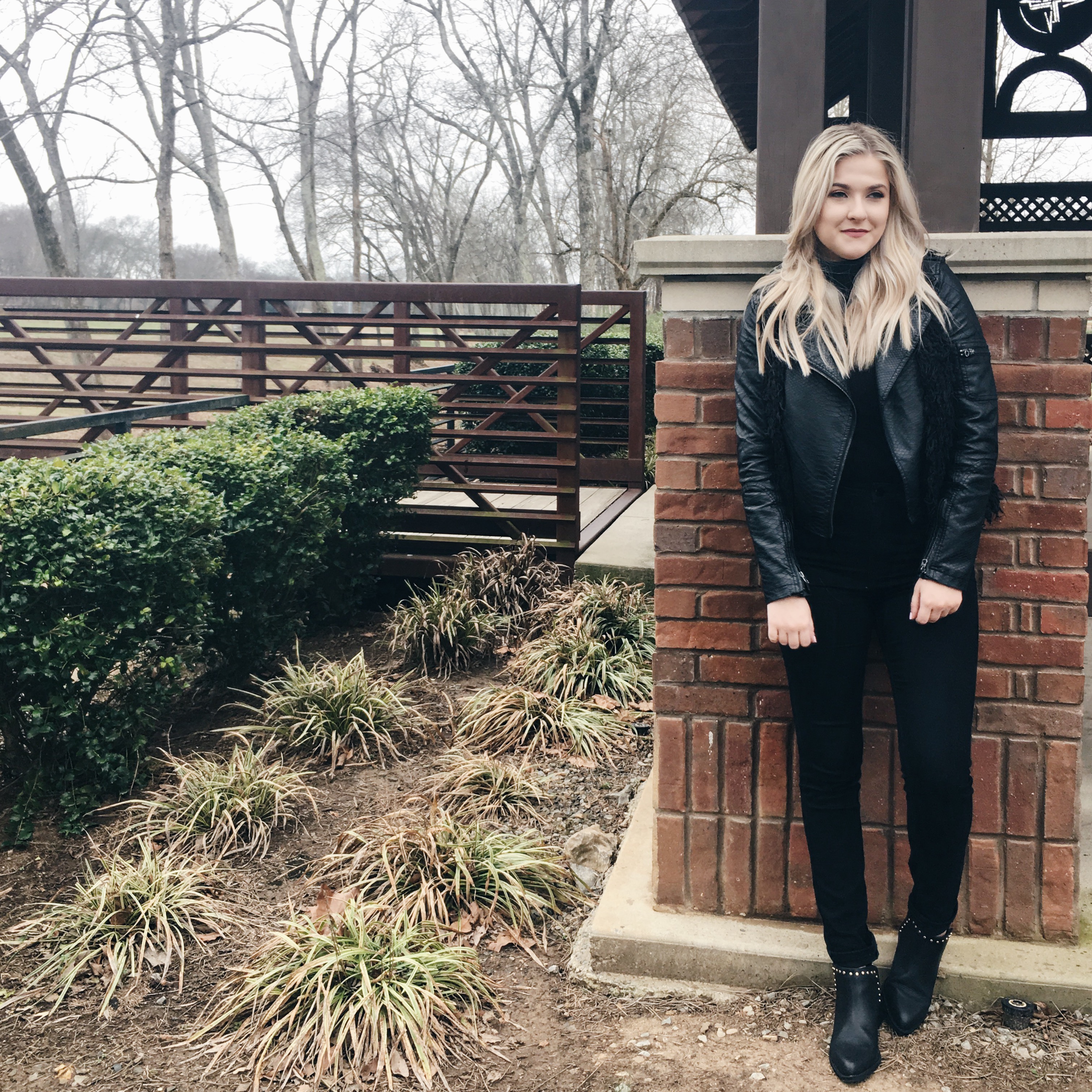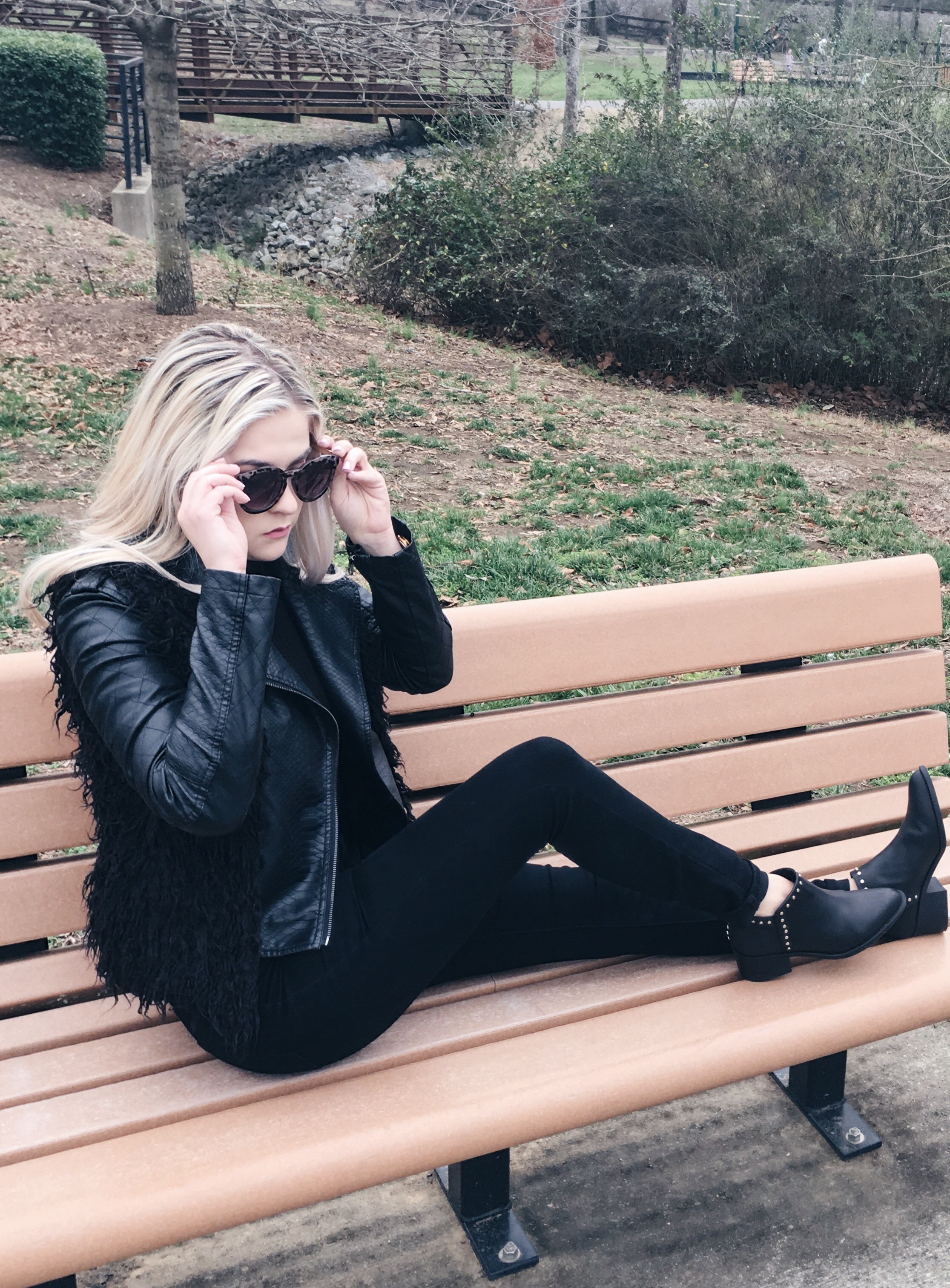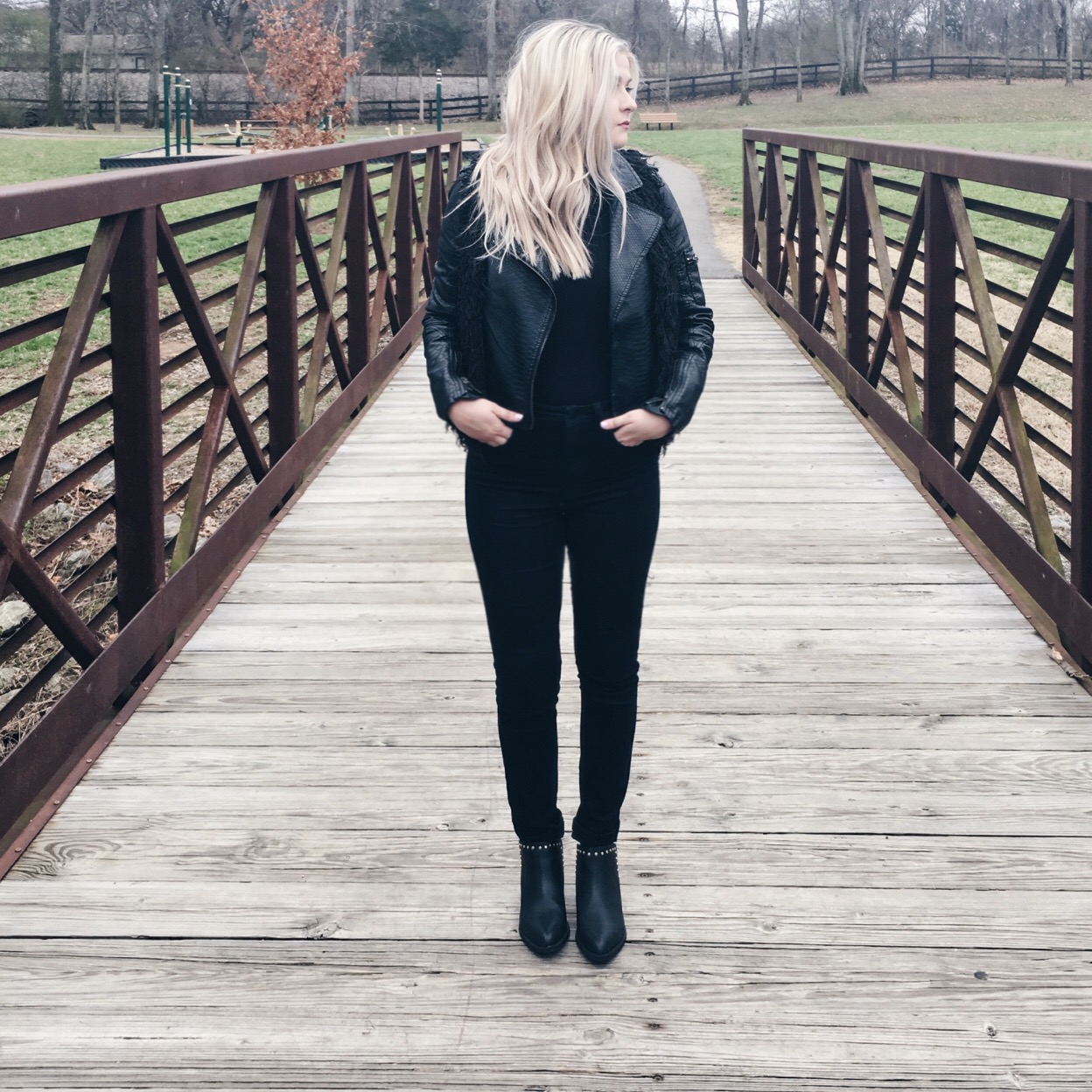 My next take on the monochromatic look is a little more on the daring side, for me anyway. Like I said earlier, I've been taught for years not to wear too much of the same shade, so this whole monochromatic concept is a little foreign to me. One of my favorite colors this season has been burgundy. I think it's a beautiful color, and because it's been so popular, I think it will super easy to find burgundy pieces to play around with. In this look, I started with a faux leather skirt I found from Kroger of all places…believe me, I was just as surprised as you are. This sleeveless, mock neck top was a fairly recent find, and I thought it would be perfect for this look. Now for my FAVORITE piece, a suede moto style jacket. It's a part of Lauren Conrad's Runway collection for Kohls. I love love love this jacket. It also has rose gold hardware, which makes it unique to other pieces I've come across. To tie in the suede, I wore these ankle booties that I purchased last season (don't worry I've linked similar products below).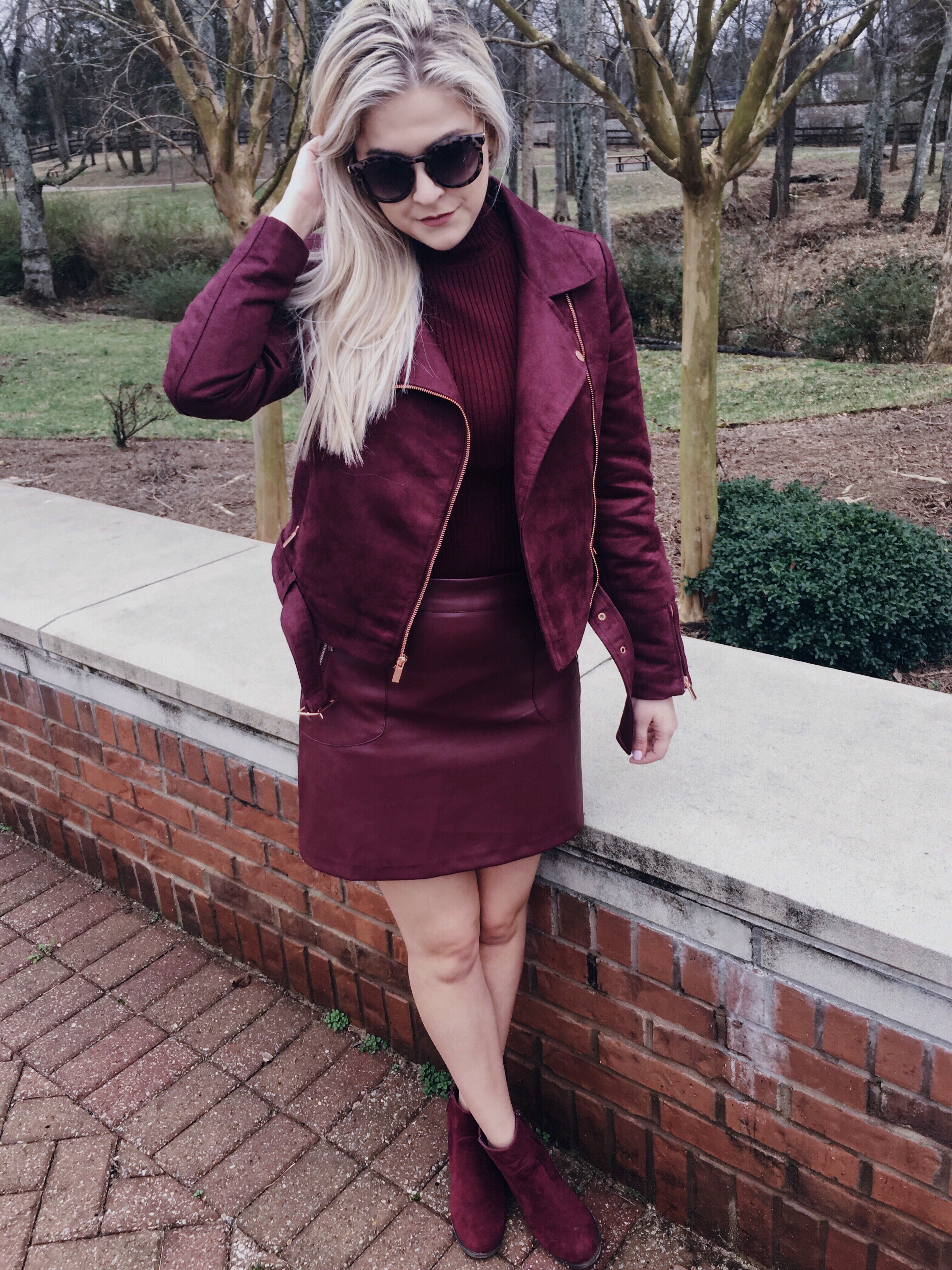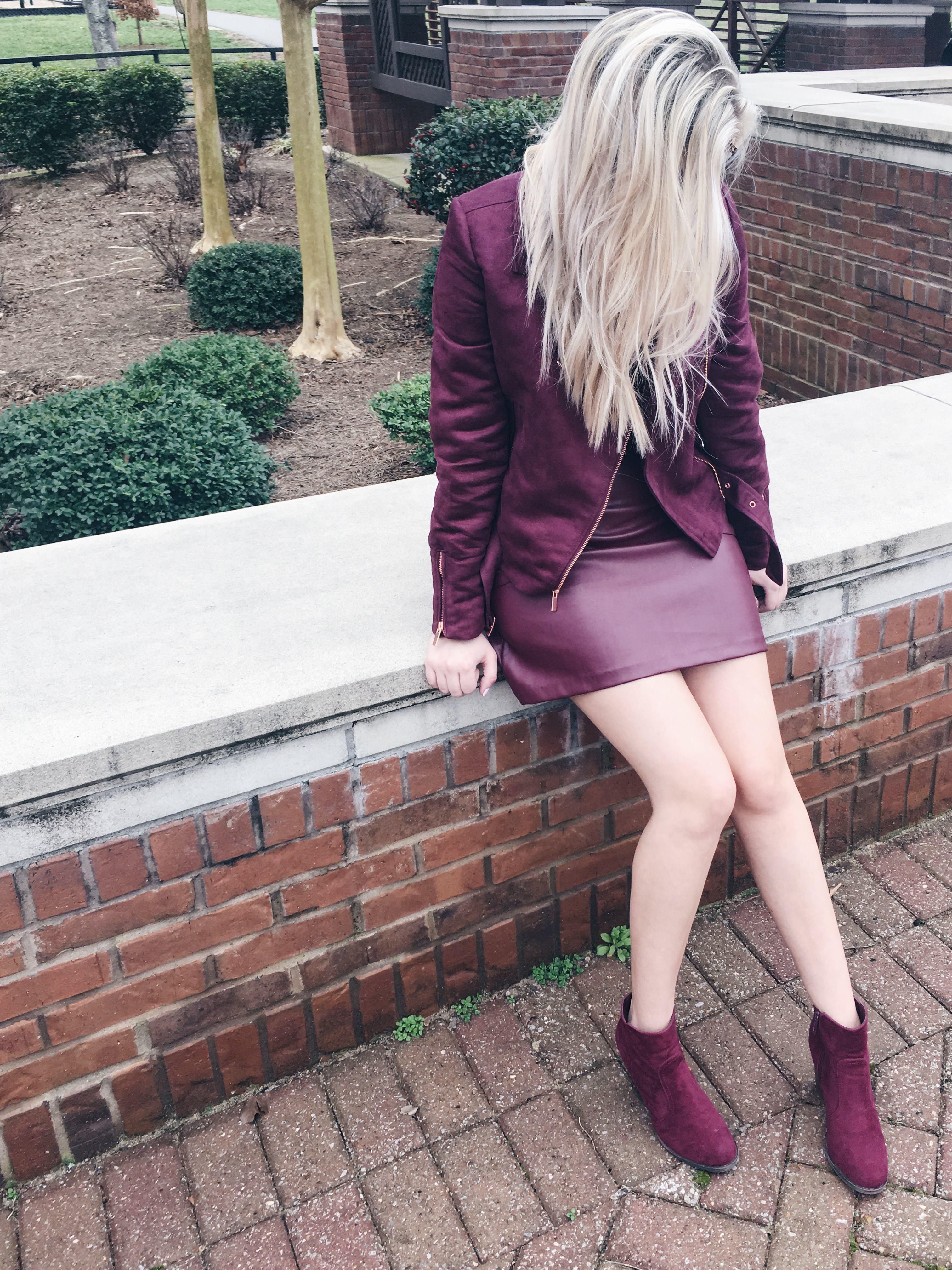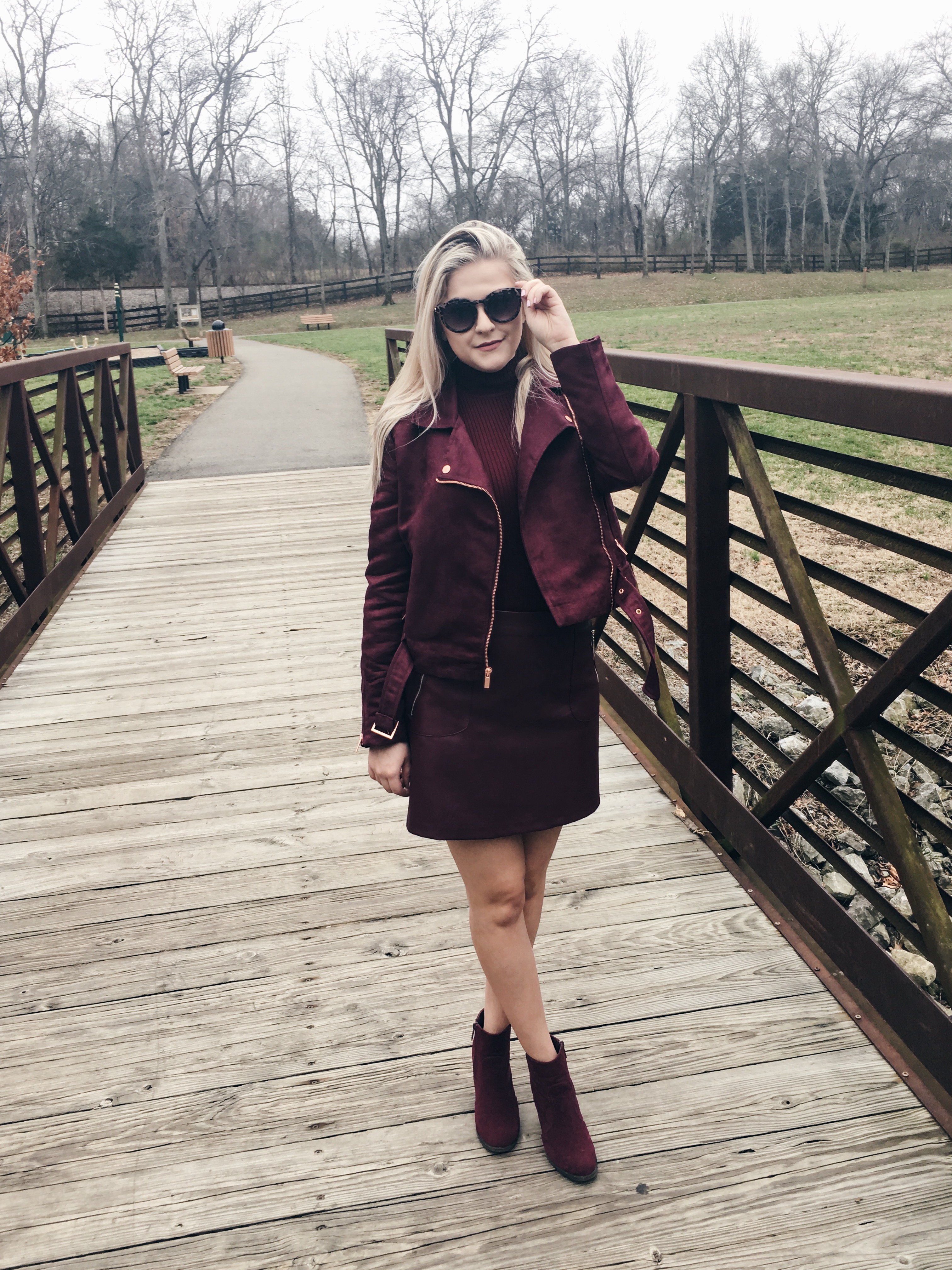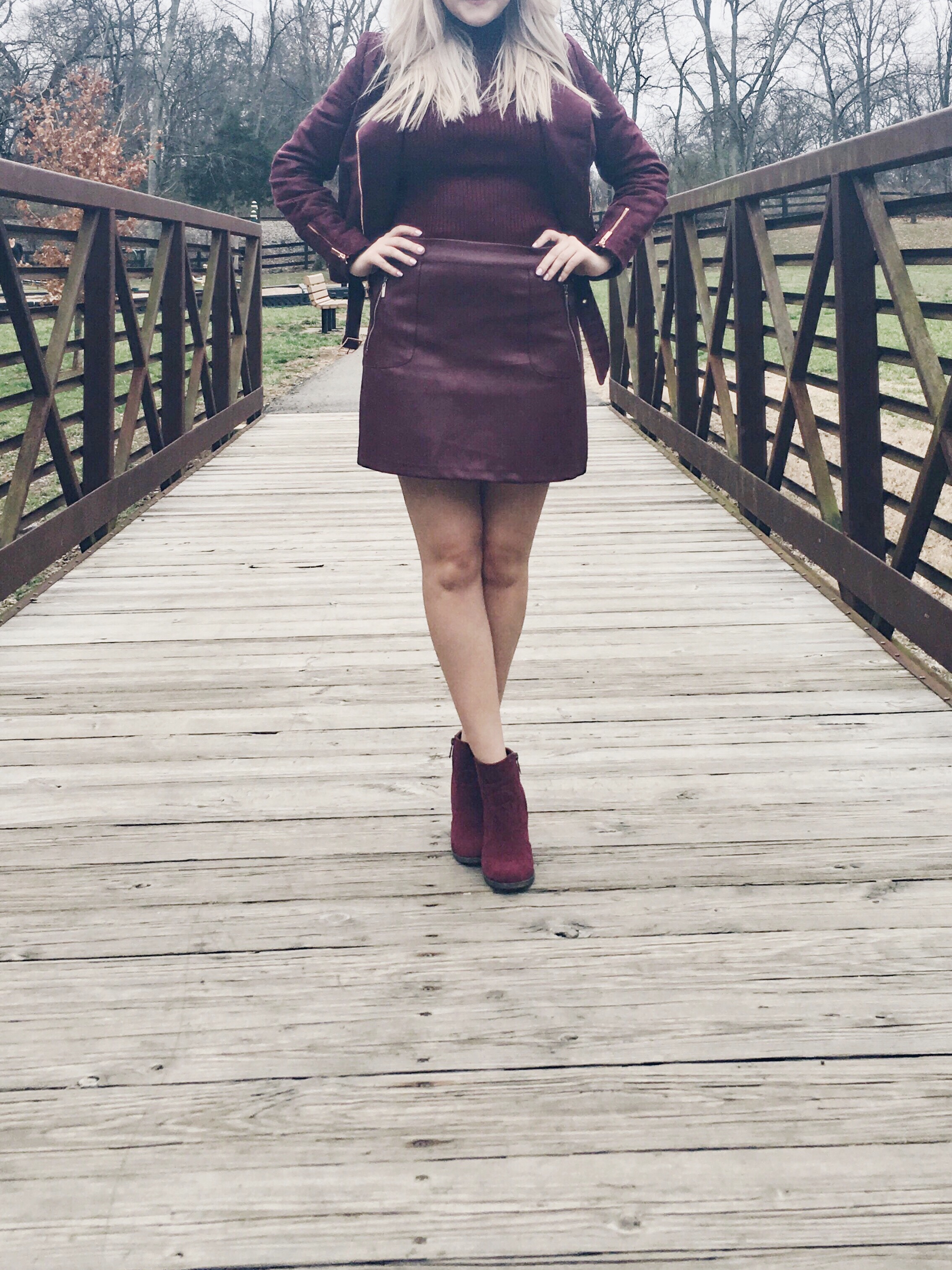 The key to trying new trends is to just be confident. Find pieces that you are comfortable with and mix and match them with other items in your closet. I like to start by slowly incorporating a new trend into my outfits, so it won't seem like such a shock. I know sometimes it's hard to feel confident in yourself, it's something I struggle with daily. Even if you are self-conscience on the inside, if you wear an outfit and just own it, you'll seem confident! One thing I've found throughout the years is that most of the time, people that say mean and hurtful things to you are doing so for two reasons: 1) to get a rise or reaction out of you and 2) because they lack self-confidence themselves. So next time you step outside your fashion comfort zone, own it, work it, and know that you look great doing it! Have a great week, thanks for reading!
Outfit 1:
Black Turtleneck- similar here, here, and here
High waisted Jeans- here and here
Faux Leather Jacket- similar here, here, here, and here
Faux Fur Vest- similar here, here, and here
Booties- similar here
Outfit 2:
Mockneck Top- similar here, here, here, and here
Faux Leather Skirt- similar here, here, and here
Suede Moto Jacket- currently out of stock. similar here and here (my exact jacket can be found on eBay)
Suede Booties- here