Hi, everyone! I hope you've all been enjoying the beautiful weather Tennessee has graced us with this weekend. I'm so sorry for the lack of posts this week. If I'm being honest, I had no idea what I was getting myself into when I started Simply Niki. Don't get me wrong, I absolutely love this blog. I just had no idea how much work it would be to maintain it! I feel like sometimes when it comes to social media, we forget that everything isn't what it seems. We try so hard to make everything look so effortless and easy that we end up making it the exact opposite. It may have been a little stressful, but I am so happy with how this post turned out! This was my first collaboration with a brand, and I wanted so badly for this post to look perfect. I wanted to make sure I represented this brand in a way that they could be proud of. I hope y'all love these looks as much as I do, and I hope it inspires you to create some fun spring looks! Have a great week, and thanks for reading!
Ok, so let's start with a fun, everyday look. I paired this adorable tassel tank with some basic denim, because I really wanted the look to focus on the details of the tank and the pop of color provided by the shoes. A fun shoe is perfect for bringing out colors, patterns, or textures found in an outfit. This tank is definitely a spring staple. Patterns and tassel detailing is super on trend right now, so you can't go wrong. I also think this top would be perfect with white skinnies for a more bright and bold look. This outfit was exactly what I needed for a day out in Nashville with my younger sister. I tried Proper Bagel for the first time and y'all it is gooooood! I got the smoked turkey brie (without the brie) on a sesame seed bagel, and it was so delicious! I can't say the same for the sweet potato mash….which is weird, because honestly I'm usually down for anything made out of a potato. You can shop this look by following the links below!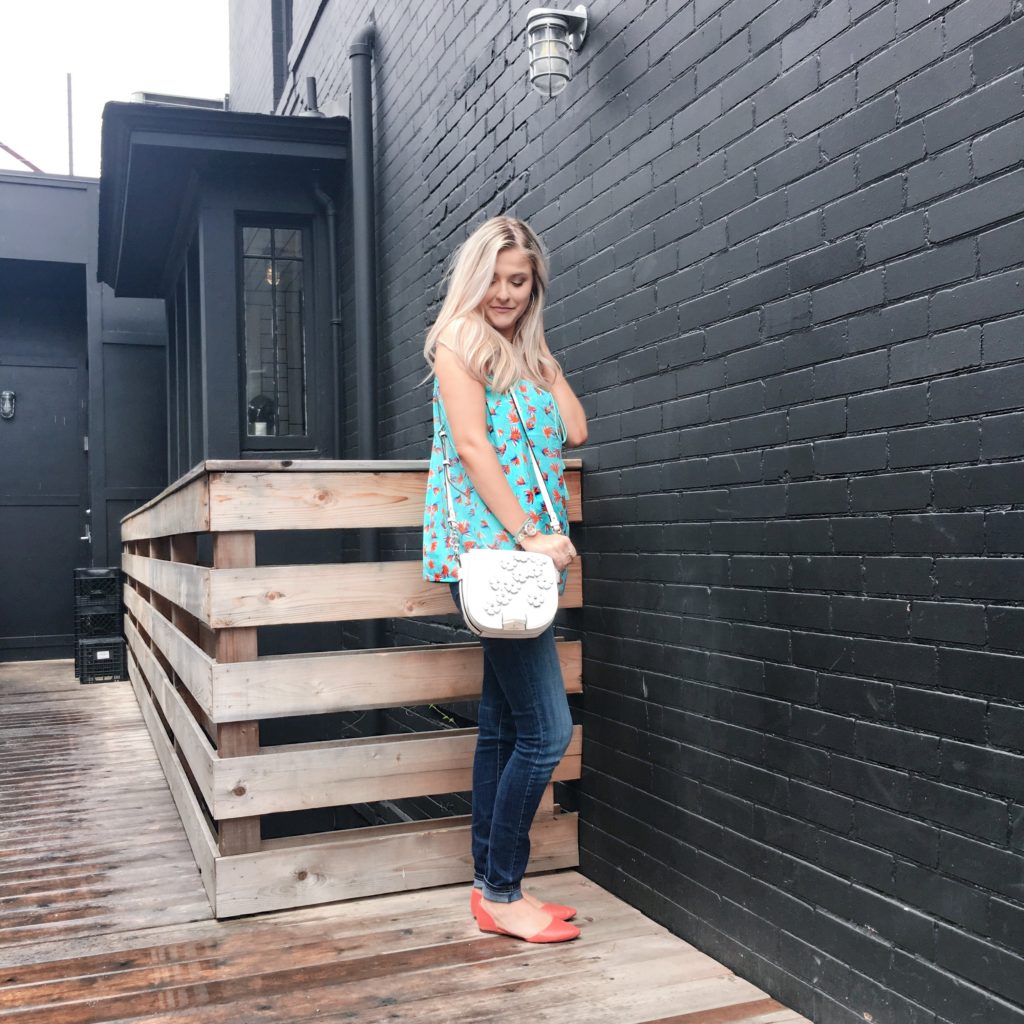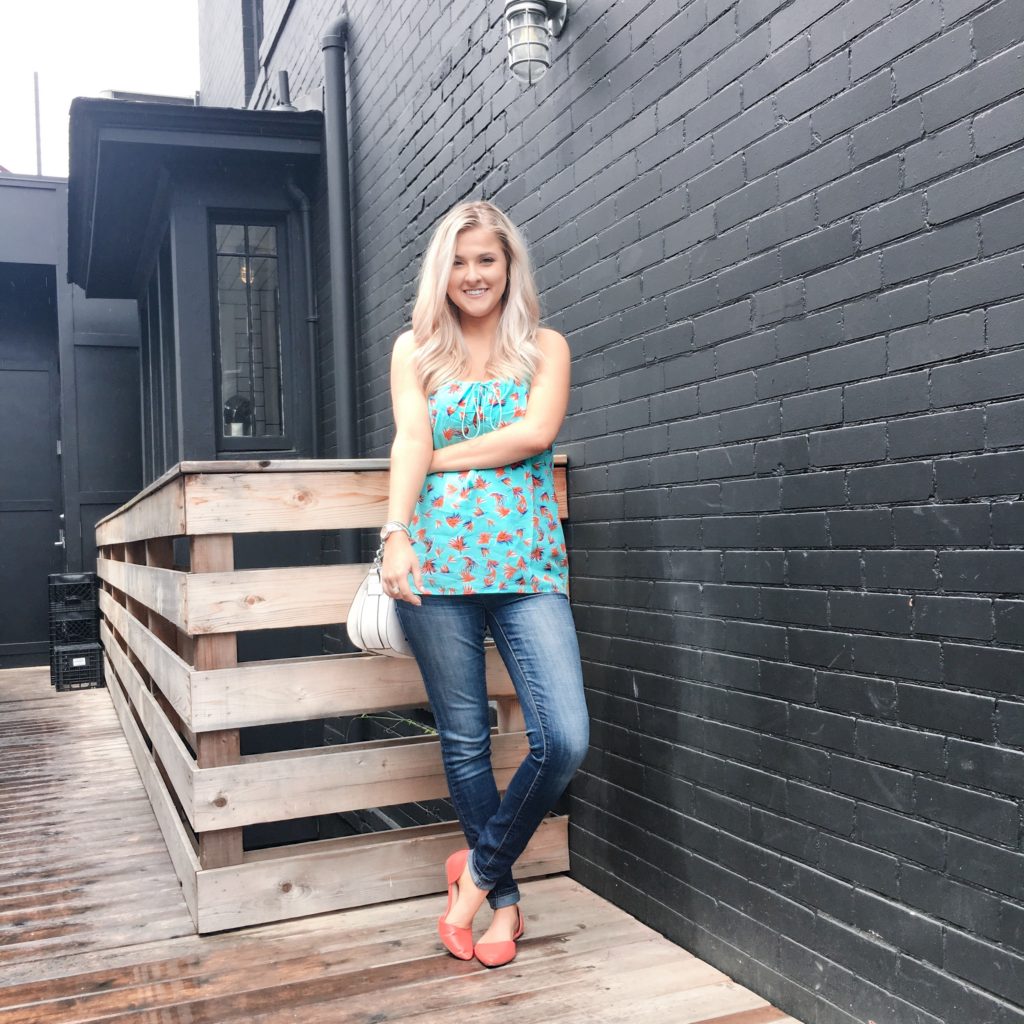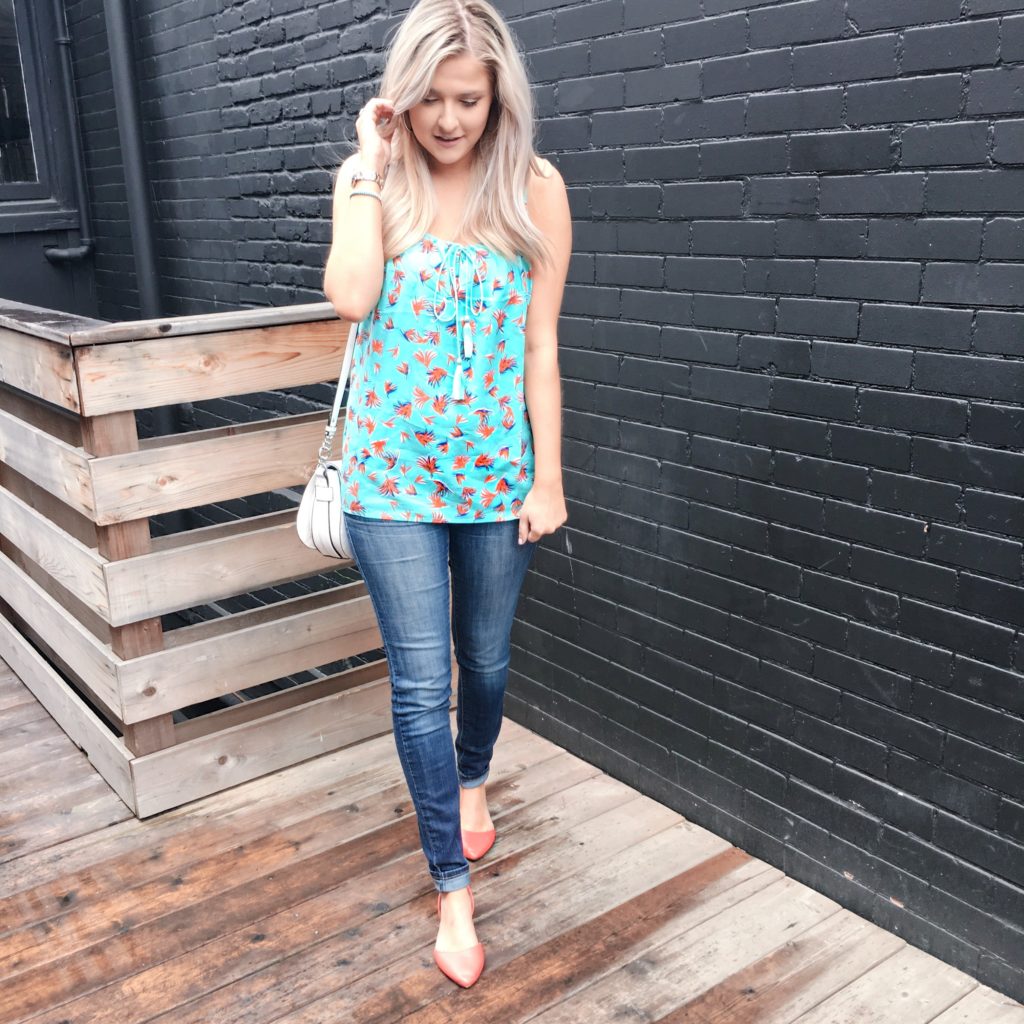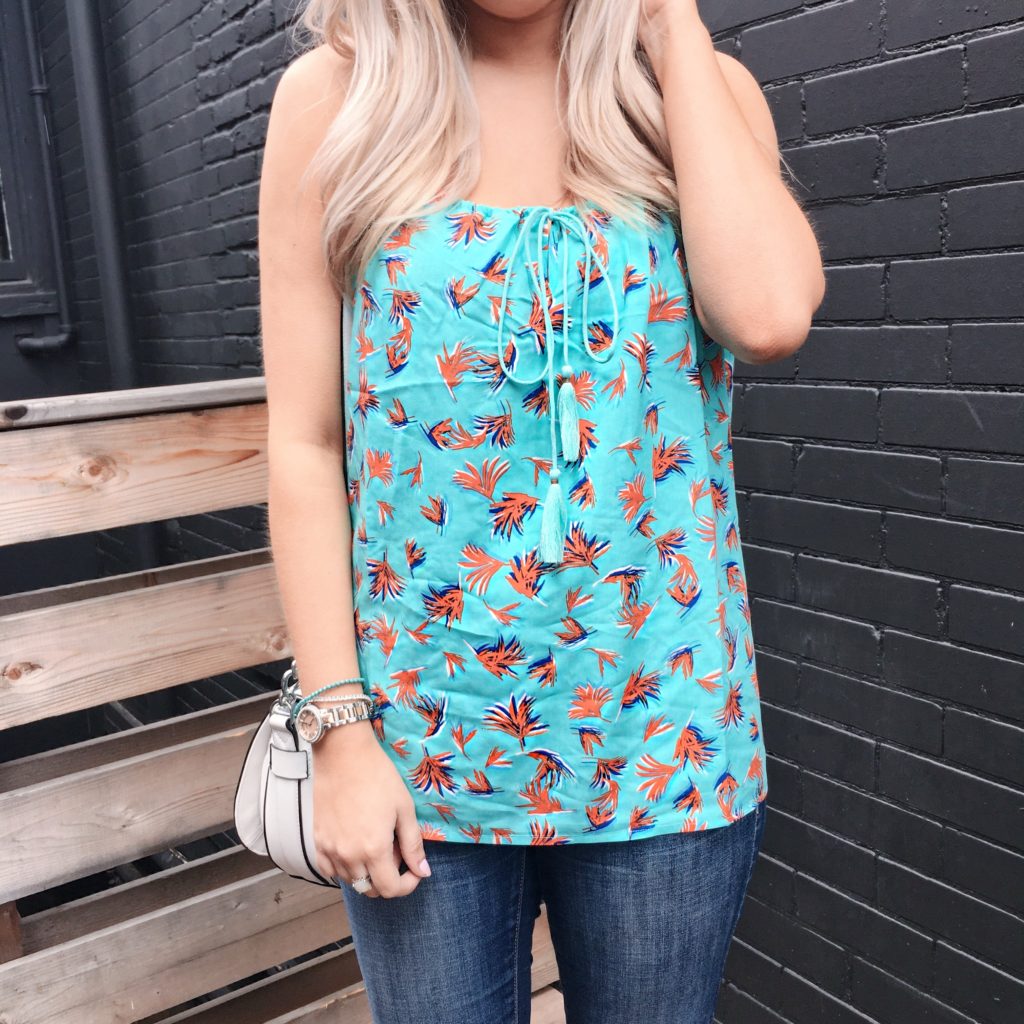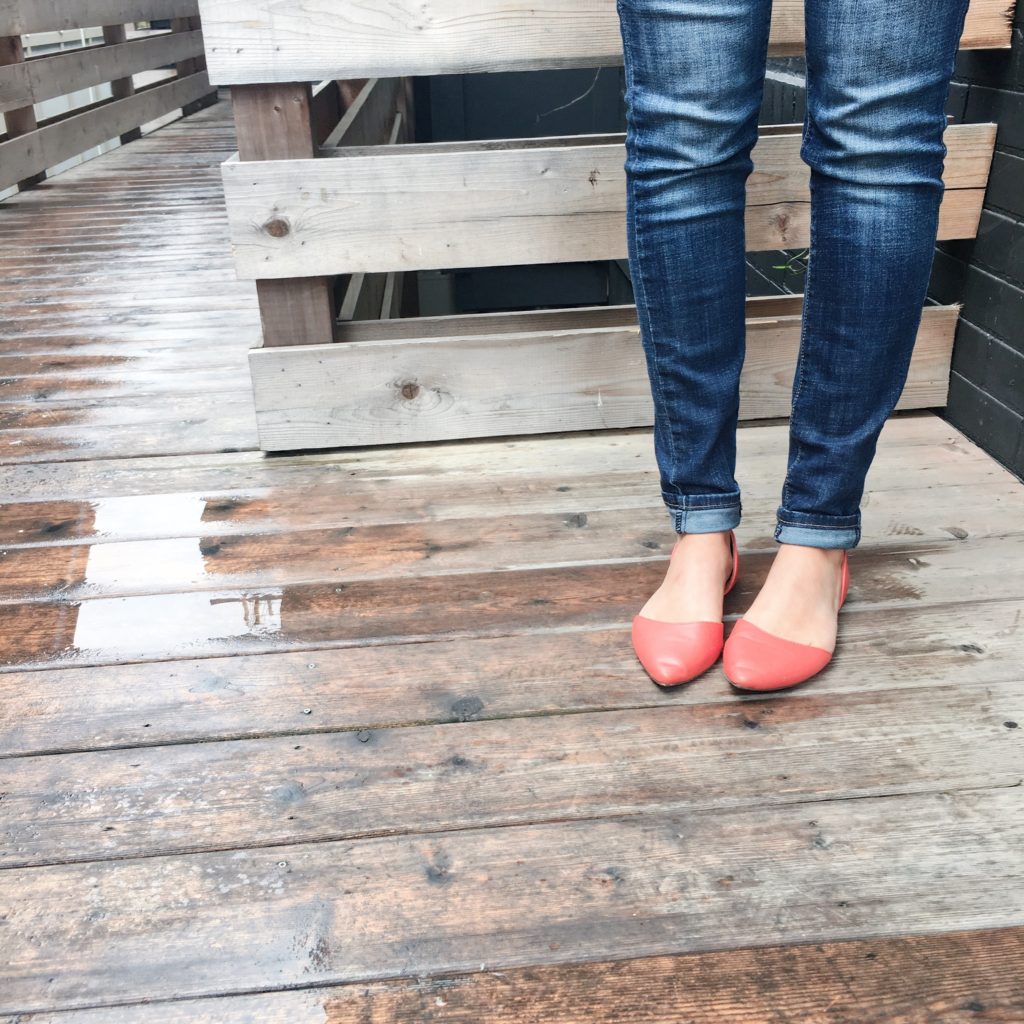 The next item I styled was the fiesta romper…I mean c'mon, who doesn't love a good fiesta?! I love that this piece is so simple, while still making a bold statement with the floral pattern. This just screams summer to me! I'm usually not a fan of rompers…I just don't think they flatter my body type, but I actually loved this one! In fact, I think it may be my favorite piece from the whole collection. It has a drawstring at the waist, so you can customize the fit which is a super nice touch. The straps are also adjustable which is always nice. Rompers are so easy to style. I wanted to keep this look more on the casual side, but you could easily dress up this romper with a cute oversized blazer and some heels. I opted for these cute lace up sandals since I was out and about this day. This crisp, white bag is something that everyone needs for spring! I got this one at Kohl's in the SimplyVera by Vera Wang collection. The flower detailing makes this bag perfect for the spring. I really think it can brighten up any outfit. It has silver hardware, which is not my favorite, but I've been trying to incorporate both silver and gold into my wardrobe lately. I thought this would be the perfect way to do just that!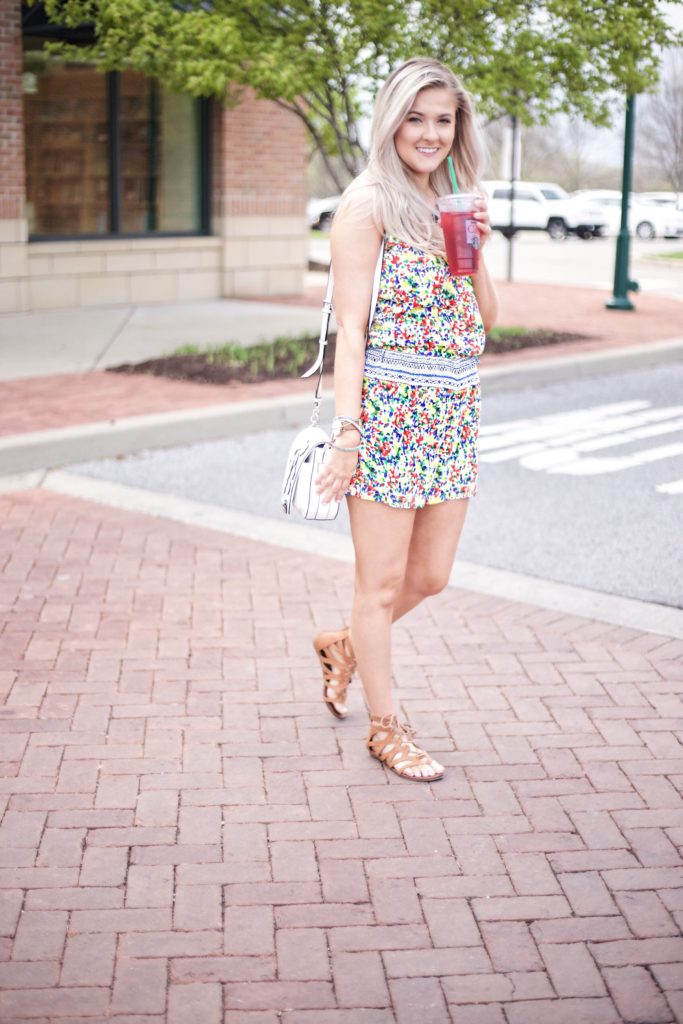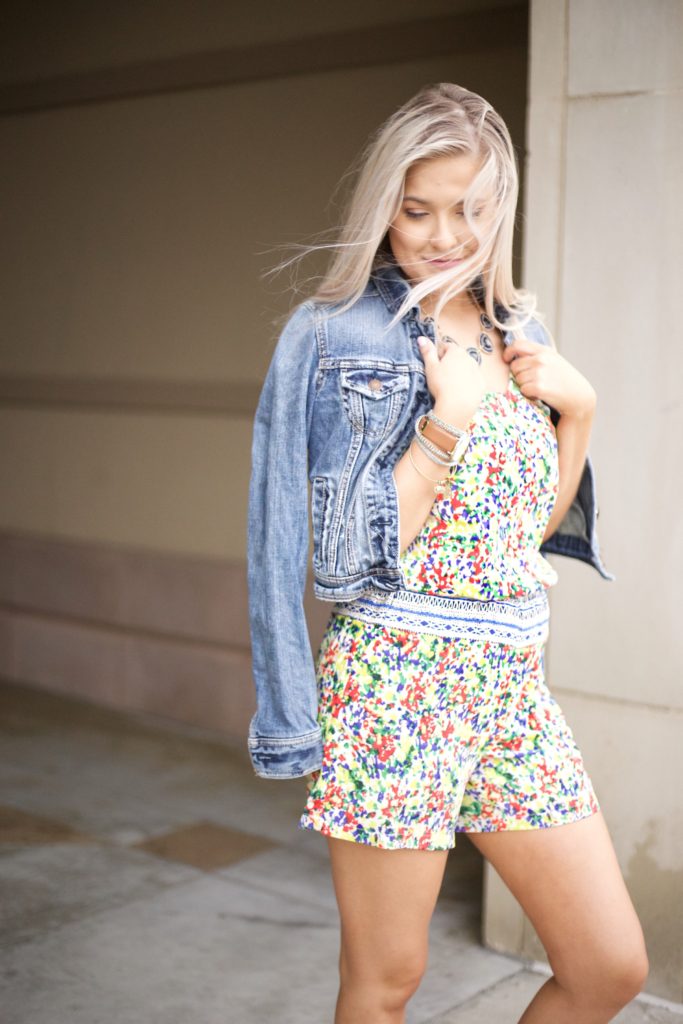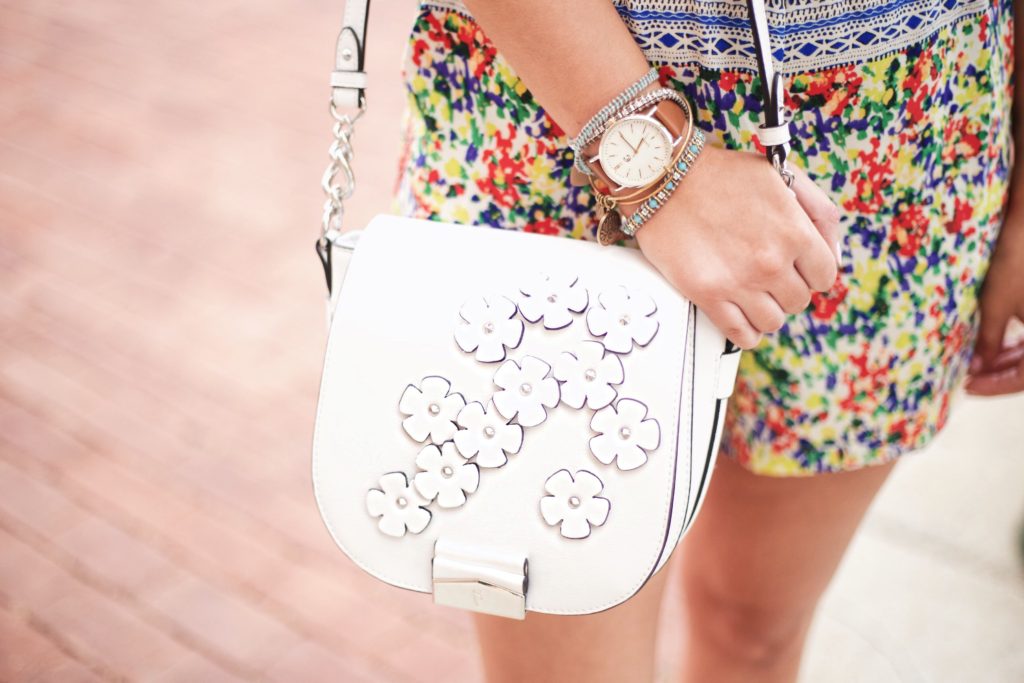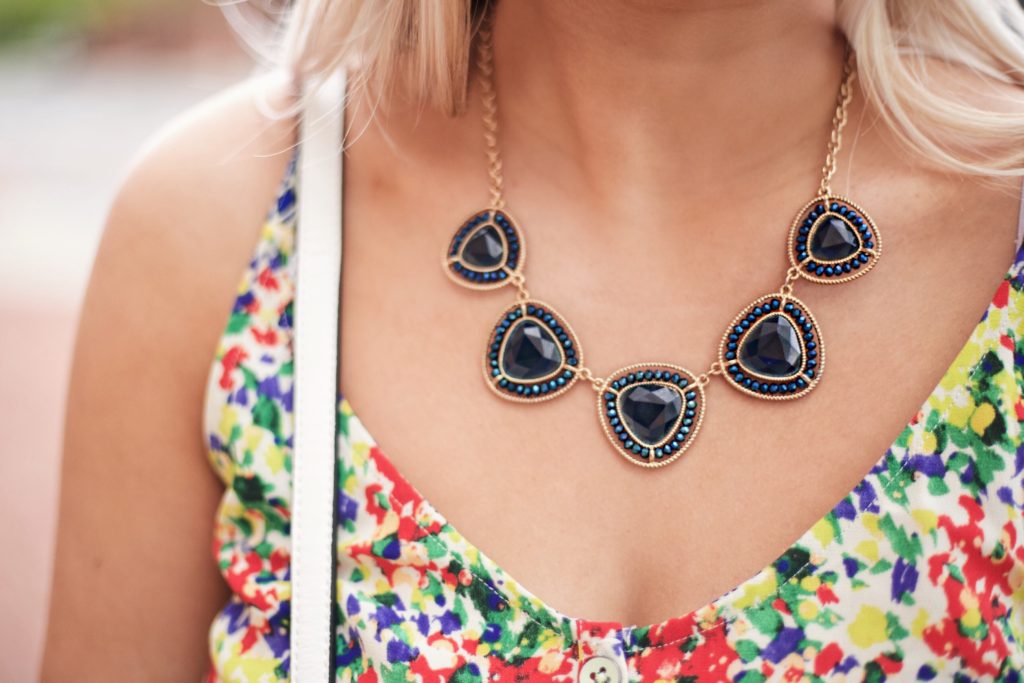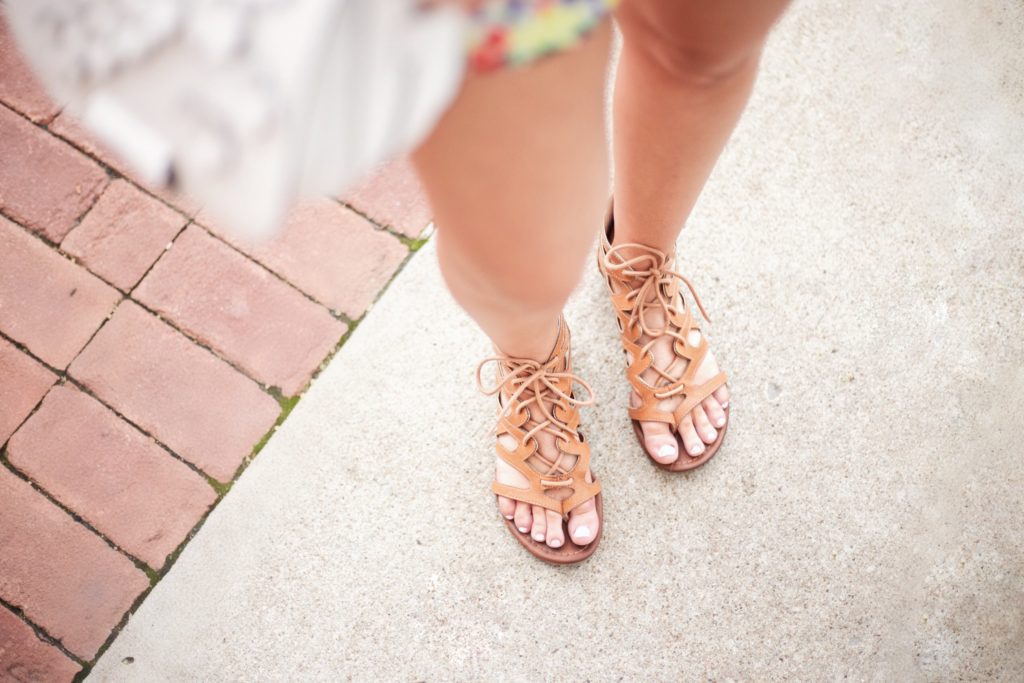 I've been having a hard time finding denim shorts that aren't super short. Everything I've come across lately has what seems to be either a booty short or a bermuda short. Finding the perfect in between length is almost impossible. I say almost, because I think I've found the perfect pair! The tomboy short can be left unrolled to give off a slouchy "boyfriend" look (which is what I prefer), but you can also roll them up once to show a little more leg. I think I'm going to be living in these shorts this summer. I decided to throw on an oversized t-shirt and duster cardigan for a day in Nashville. Since I was going to be doing a lot of walking, I opted for these cute flatforms from Target. I'm seriously so obsessed with them! I wore them for an 8 hour shift at work, so believe me when I say they're super comfortable. Y'all already know how much I love this Alma bag, so you shouldn't be surprised that this is the bag I chose for this look. While I was out and about I went to Franklin Juice Co. for the first time, and it was so good! If you ever go, be sure to get the dragonfruit smoothie…you won't regret it!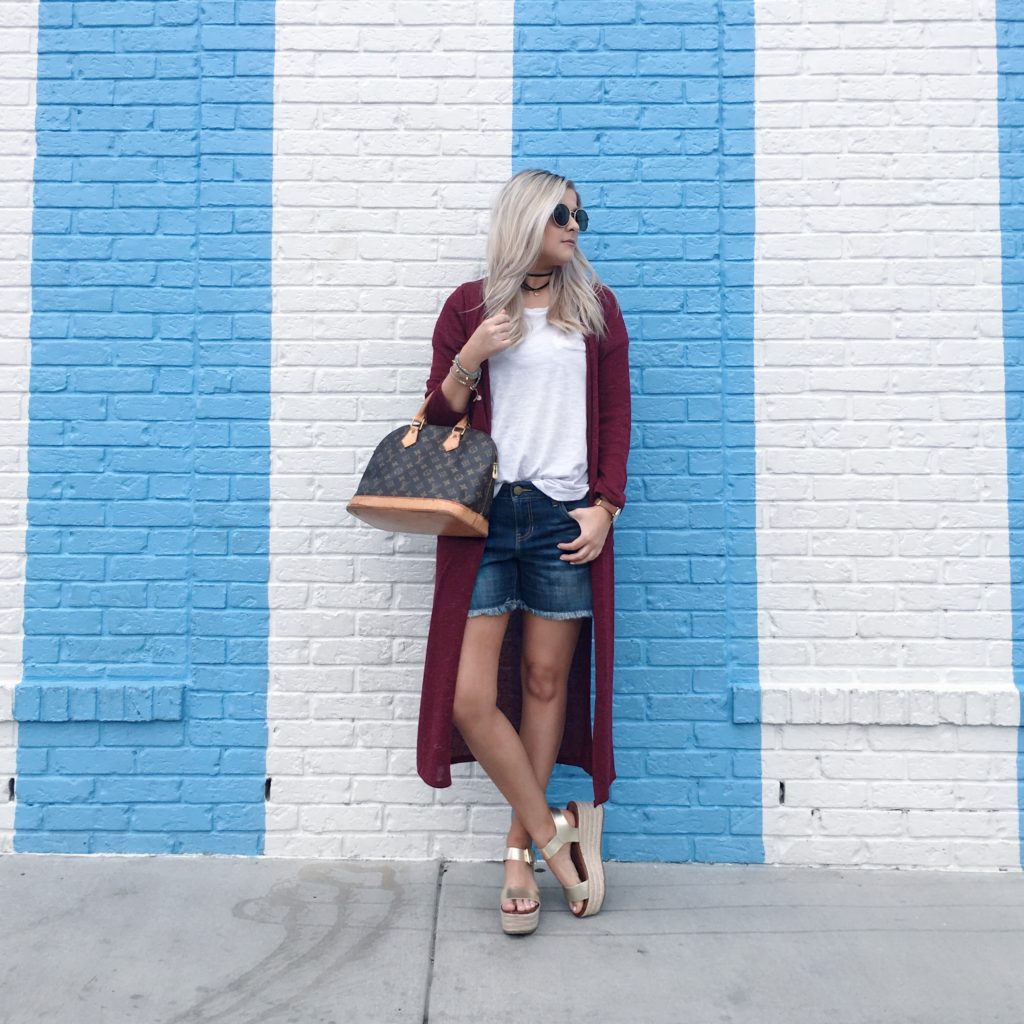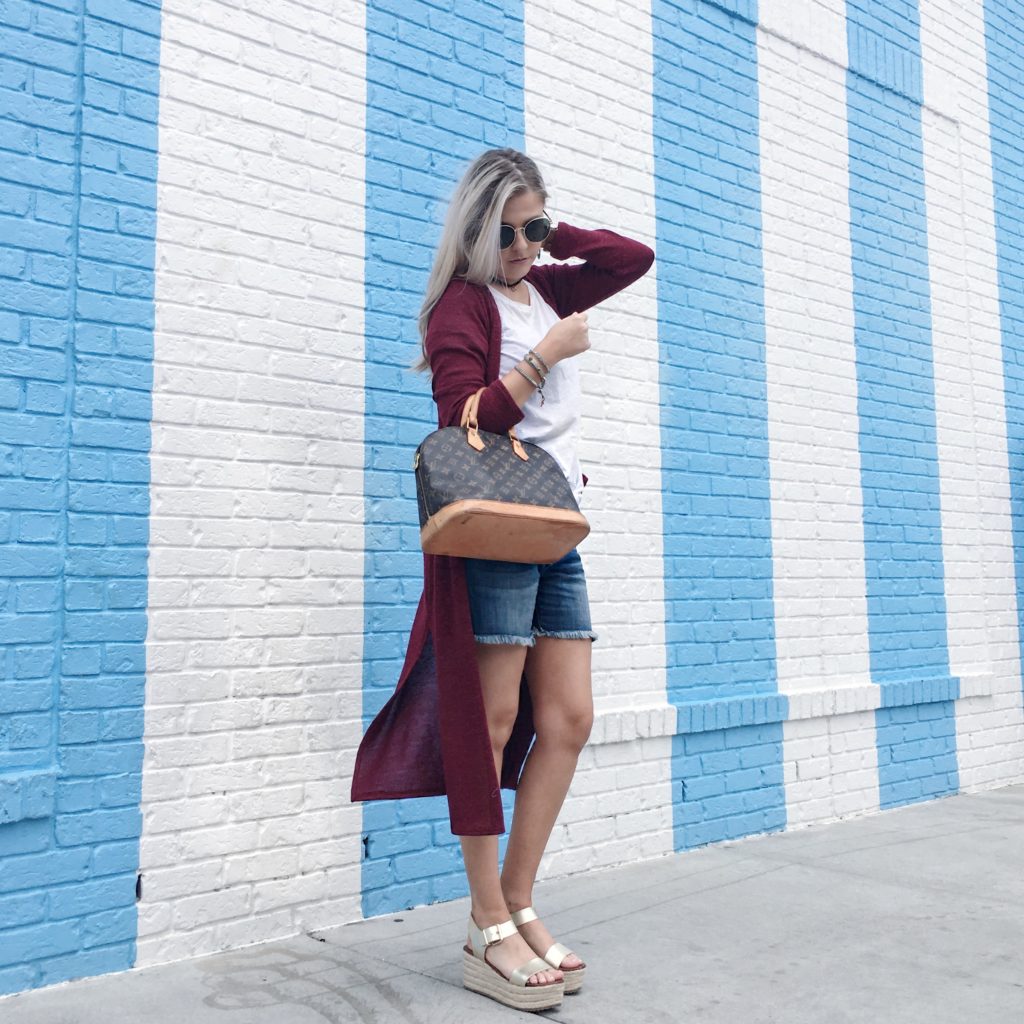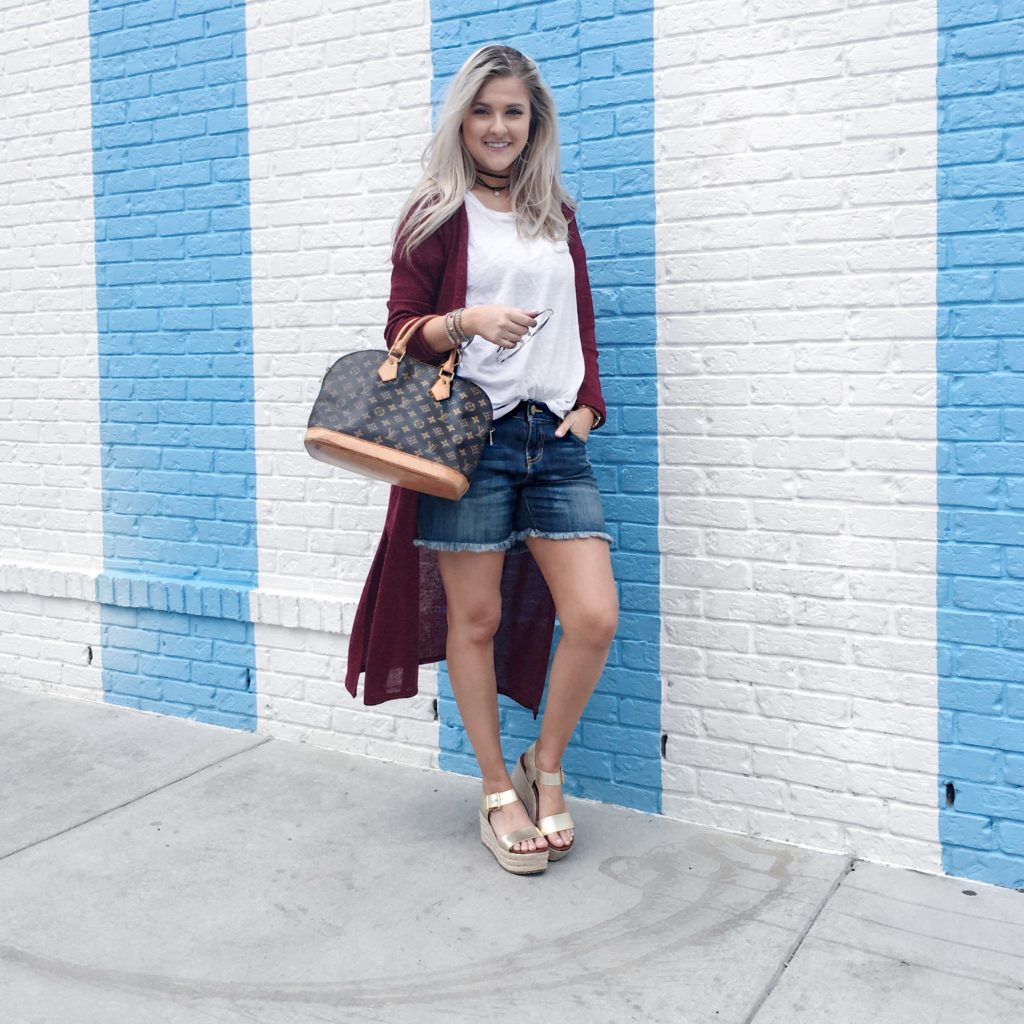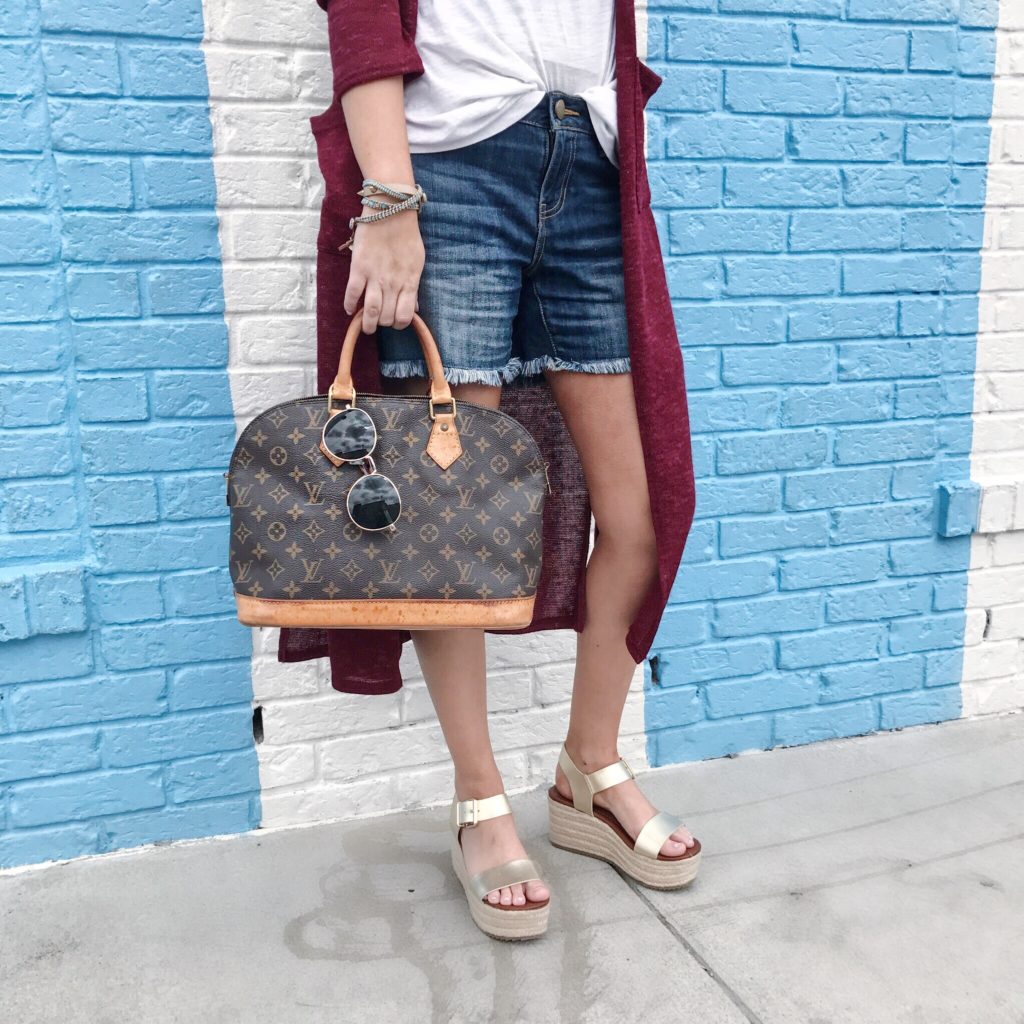 Allow me to introduce you to the skipper trousers. This is probably the item that was most outside of my fashion comfort zone. I've never really been a fan of wide legged pants, but I know they're going to be popular this spring. So I thought, "why not?" The thing that makes me nervous about wide legged pants is the possibility of losing my shape. In order to prevent this, I tucked in a blouse and wore a belt to really define my waist. I'm not going to lie to you and say that I'm in love with this particular look. I think I'm still trying to get used to it honestly. BUT it is growing on me. I think by pairing these white pants with a bright, floral shirt, it gave just the right amount of contrast. I found this rose gold bag at Kohls in the Lauren Conrad section, and instantly fell in love with it! I think this bag is the perfect for adding a hint of blush to any spring look!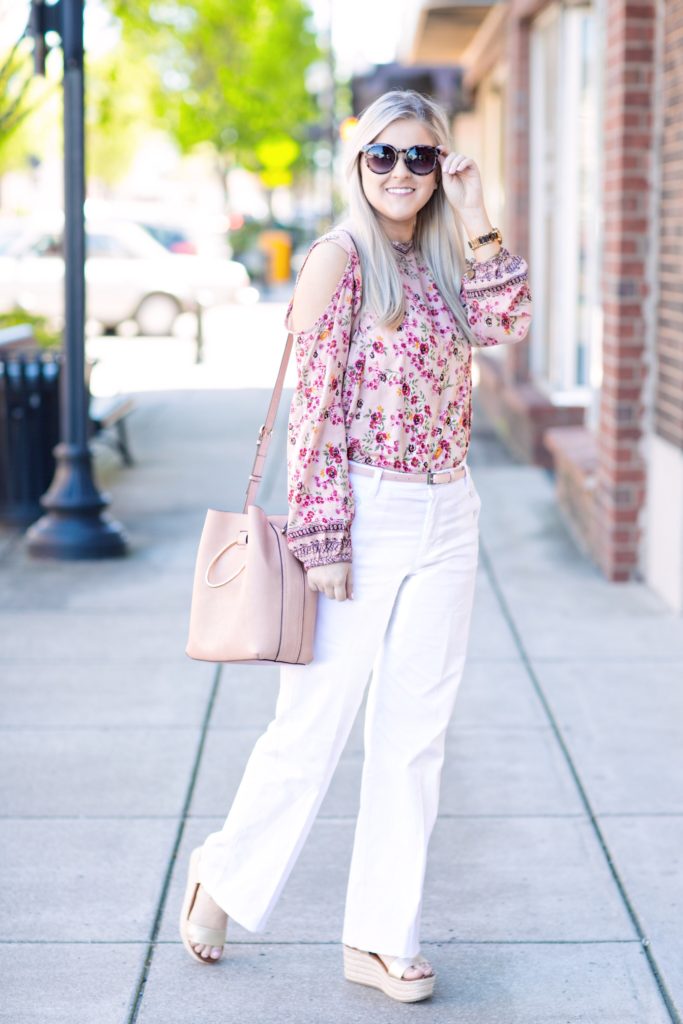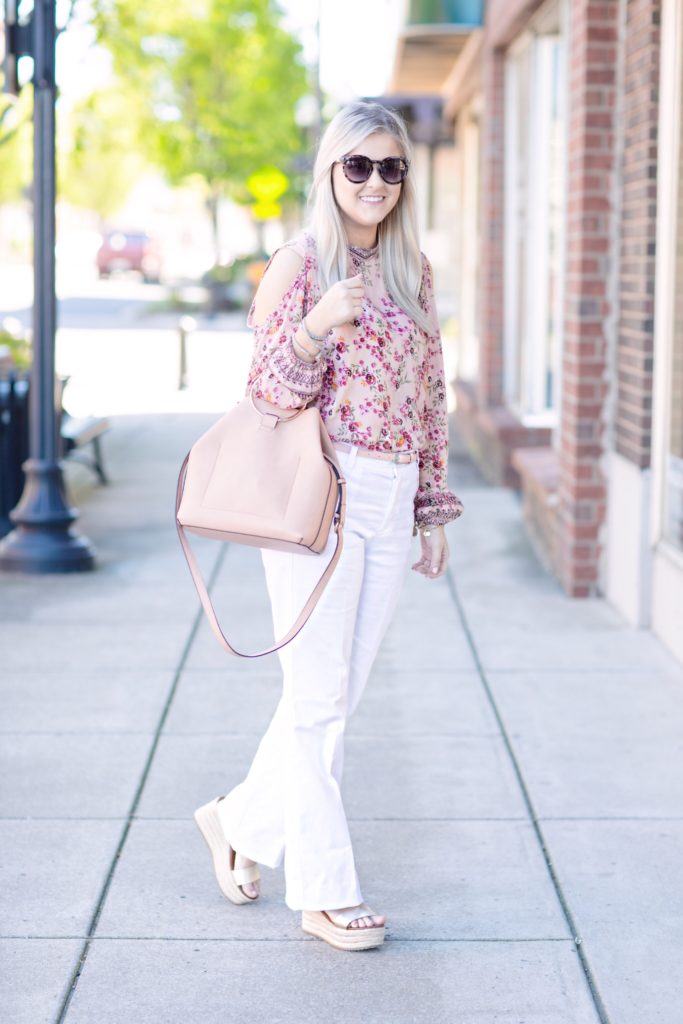 The knot dress is another piece I love! This cute little dress could easily be dressed up or down. I decided to go for a more dressed up look by wearing these Marc Fisher dupes I raved about on my Instagram. These wedges are going to be my go-to this spring. They go with everything, they're super comfortable, and they're easy to walk in. What more could you want?I also played around with the monochromatic trend by adding this cute little Gianni Bini faux leather jacket. I think the robin's egg blue made for a really pretty contrasting of blue hues. It also has silver hardware, which helped me tie in the silver on the bag!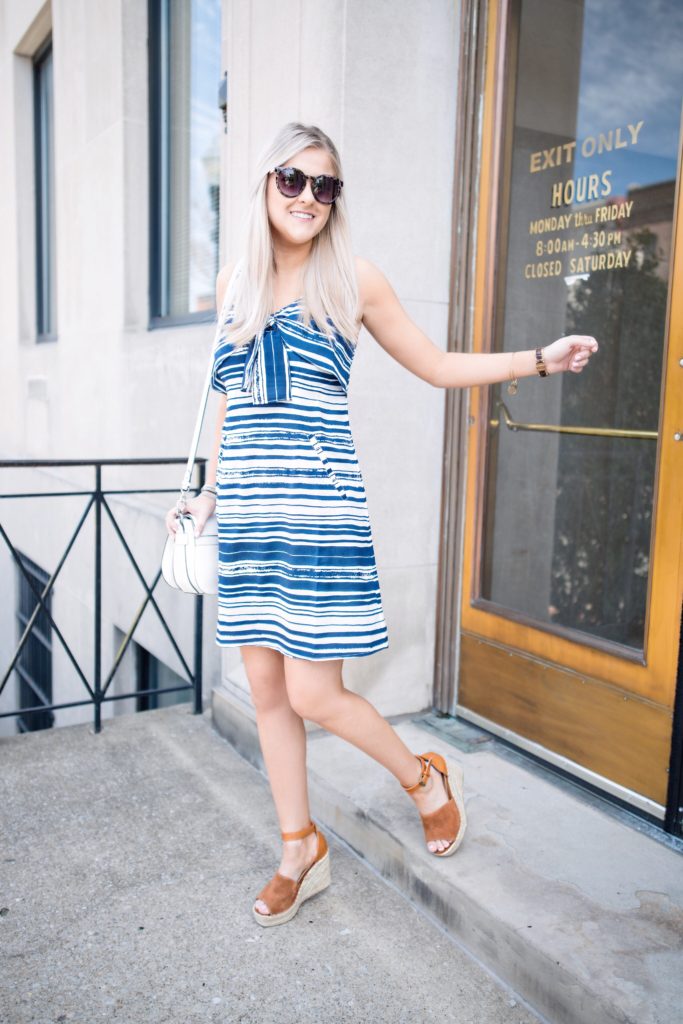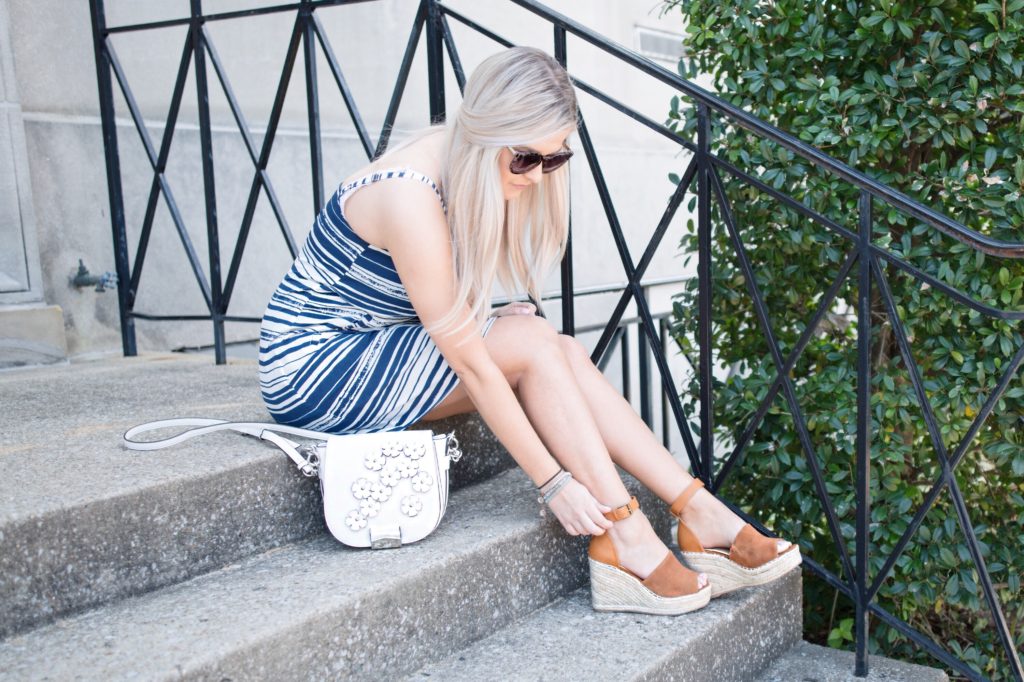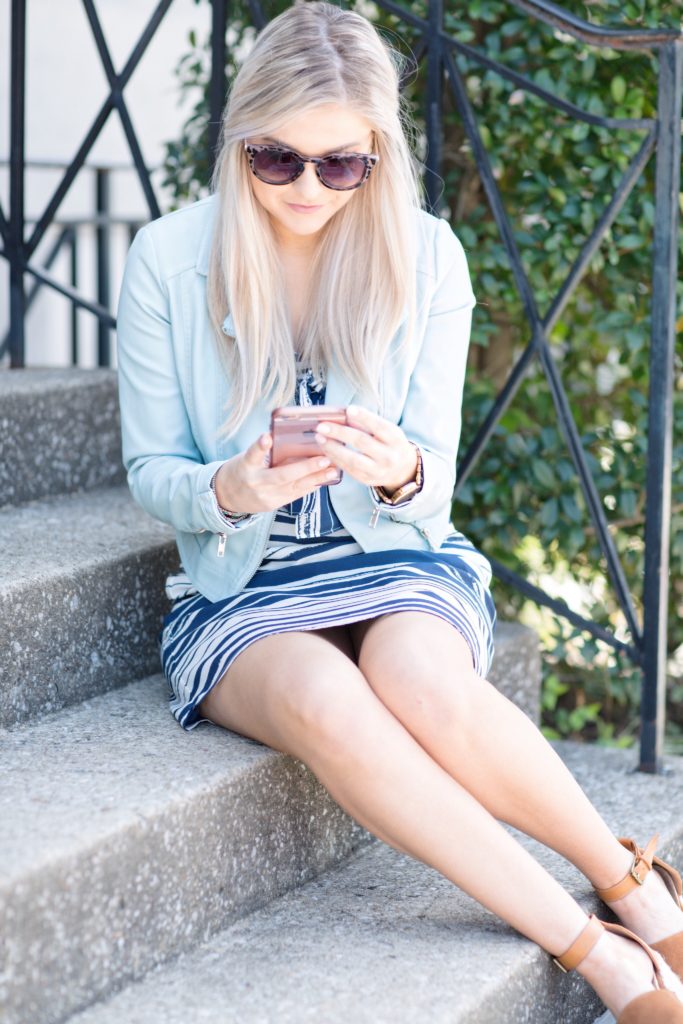 Last, but not least, I wanted to share another casual look…because let's be real I like looking cute and being comfy. This carmen top is made out of a silk-like material, so it's definitely a dressier item. I really like to mix different styles, so I thought it would be fun to try to dress this down. I decided to pair the top with a distressed boyfriend jean and…you guessed it…my flatforms and Alma bag. Honestly, when in doubt, just go with what you know. I loved the way they took a basic white top and added some cute details around the neckline and sleeves. I think it's the perfect ratio of dressy and casual. Let me know which look you liked the best, and head over to Cabi's website to check out all the pieces in their spring collections!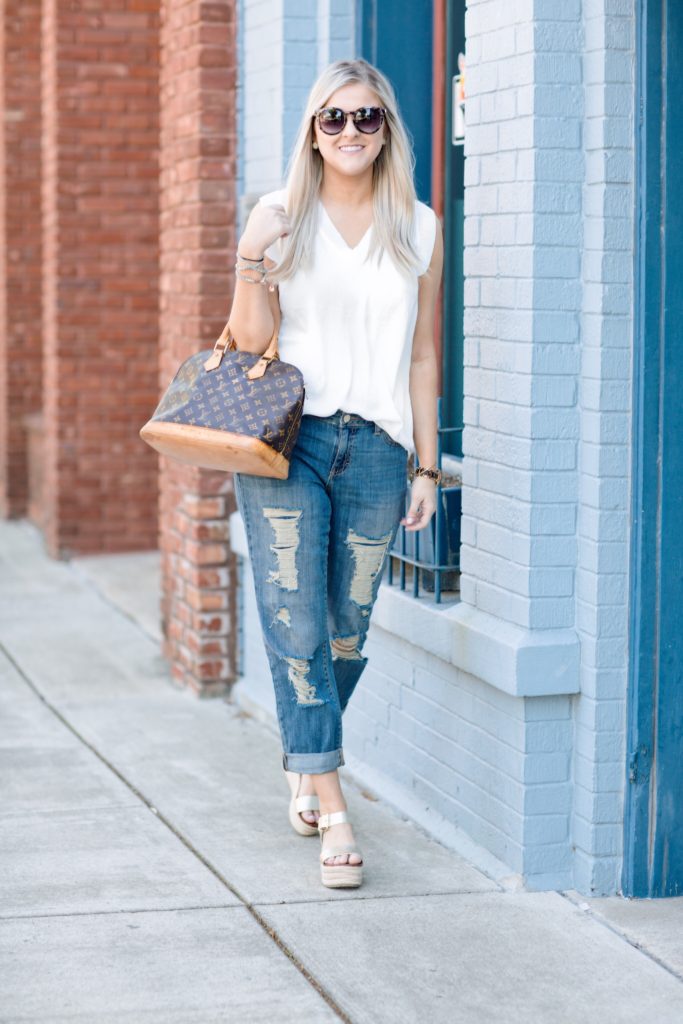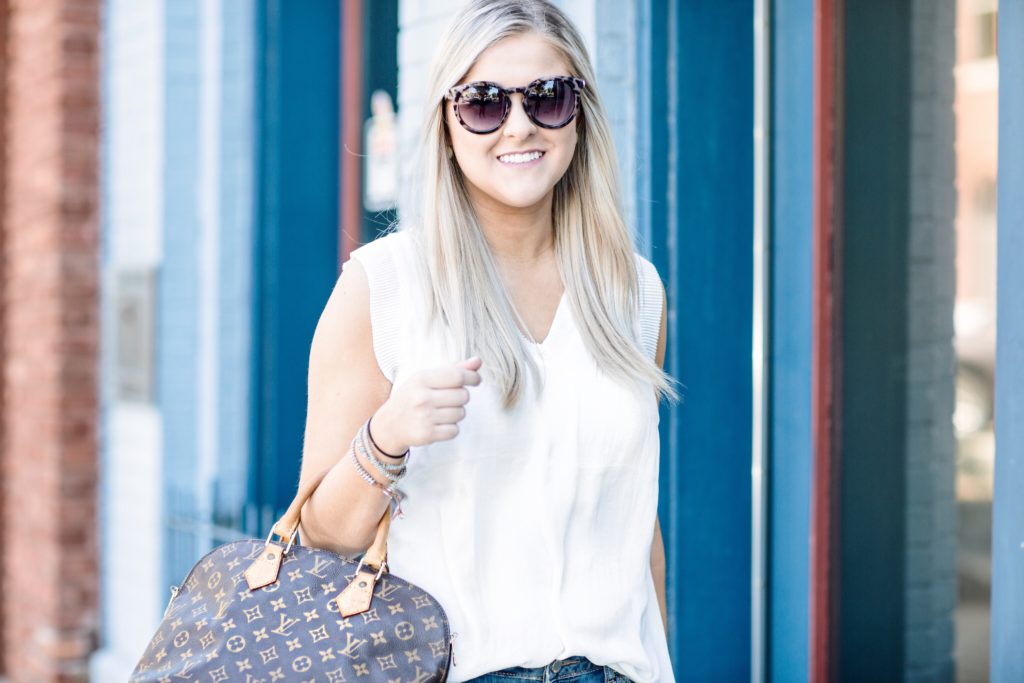 First Look:
White Simply Vera Bag: here
Jeans: here
Shoes: old (similar here)
Second Look:
Shoes: here
Denim Jacket: old (similar here)
Boho Betty Bracelet: here (remember to use code SIMPLYNIKIBLOG for 20% off)
Third Look:
Shirt: here
Duster Cardigan: here
Alma Bag: here
Shoes: not online anymore, but check your local Target (similar here)
Fourth Look:
Top: here
Rose Gold Bag by Lauren Conrad: here
Fifth Look:
Jacket: old (similar here)
Shoes: here
Sixth Look:
*Thank you to Cabi Clothing for sponsoring this post. They provided me with these pieces, but my review reflects my own thoughts and opinions.
*Photos by Denisse Breton Photography (@yodenissephotos) and Hannah Franchesca Photography (@hannah_franchesca)