When I first started apartment hunting in Nashville, I knew exactly what kind of space I wanted to create. I love the Mid Century Modern look mixed with a few Bohemian elements and dash of Scandinavian design…I'm a little all over the place. BUT I think all these design elements have a few things in common and play off each other really well. The funkiness of the Mid Century Modern style and vibrant colors from the boho pieces pair perfectly with the minimalist design of Scandinavian inspired interior. I had Pinterest boards full of perfectly decorated living rooms and kitchens, and my Instagram "Discover Page" was basically all blogger house tour photos. Unfortunately, I didn't have the type of budget I thought was necessary to achieve the look that filled my Pinterest and Instagram…but I was wrong.
My mom and I worked really hard to find the best deals, and I couldn't be more in love with how everything turned out! I wanted to write a post and share my tips and tricks in case anyone else out there was discouraged like I was in the beginning. So, I hope you find this post helpful in some way, and as always, thanks for following!
I think my biggest tip would have to be patience. It's so hard to wait when you see something you know would look perfect in your space. But I promise, if you shop around and make an informed decision before making a purchase, you'll have peace of mind knowing you got the best deal! Plus you'll save money and can use it elsewhere, like on decorative pieces!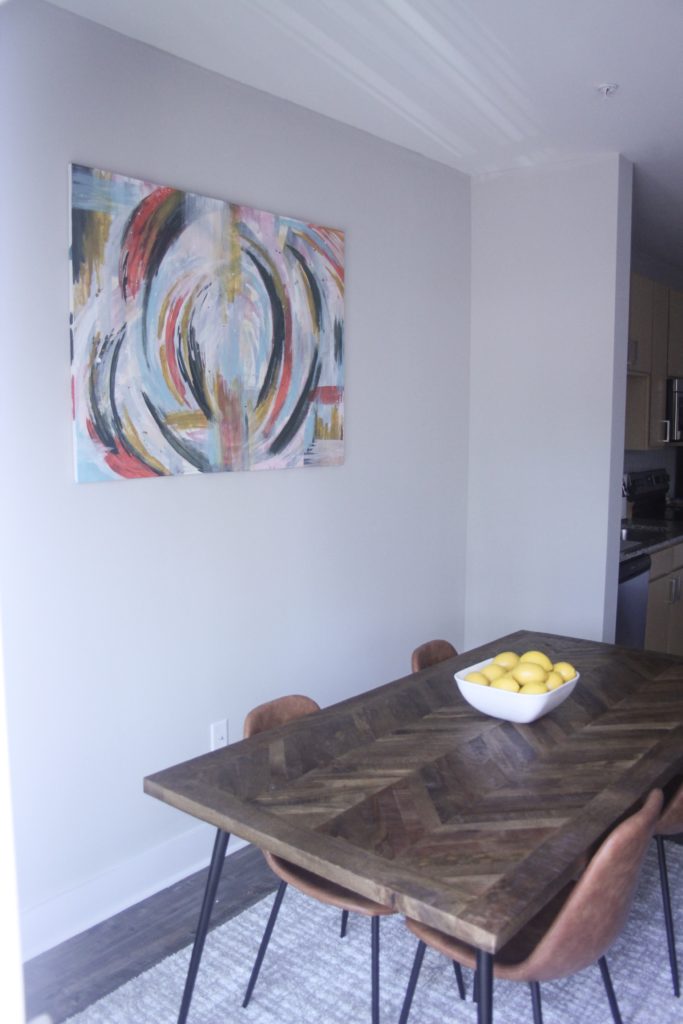 I have to stop and give this table the shoutout it deserves. I looked everywhere for a wooden table with hairpin legs. Originally I wanted gold legs, but as soon as I saw the chevron detail I was sold! I actually got this from Houzz, which is a website I had never heard of before. They have a lot of trendy pieces for a great price, so definitely check them out! Unfortunately this table is sold out, but I've linked similar ones for y'all at the end of this post!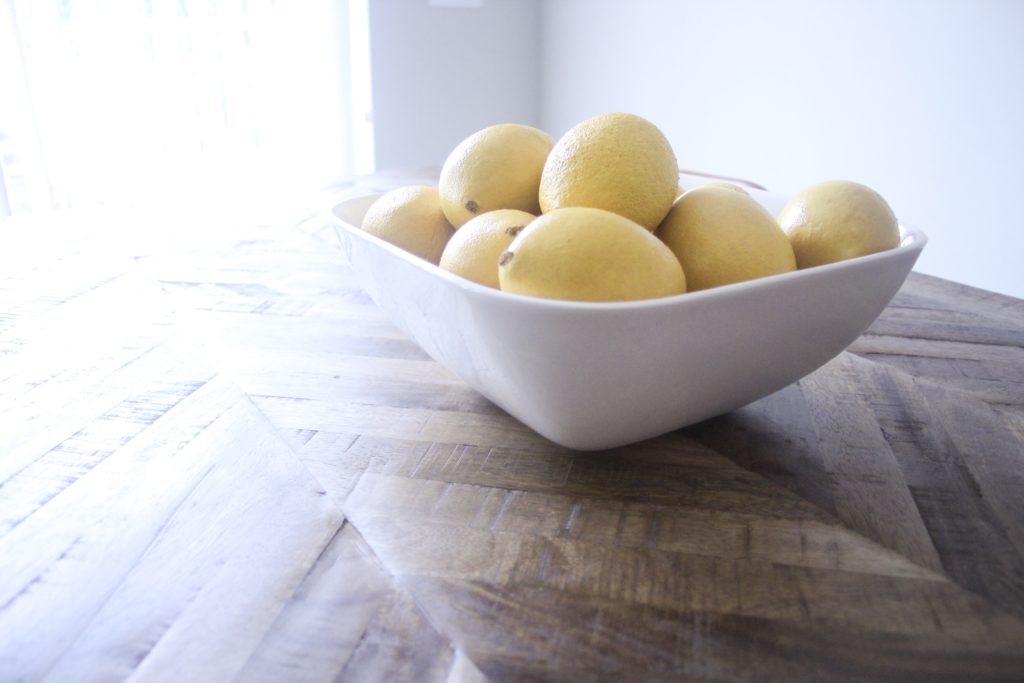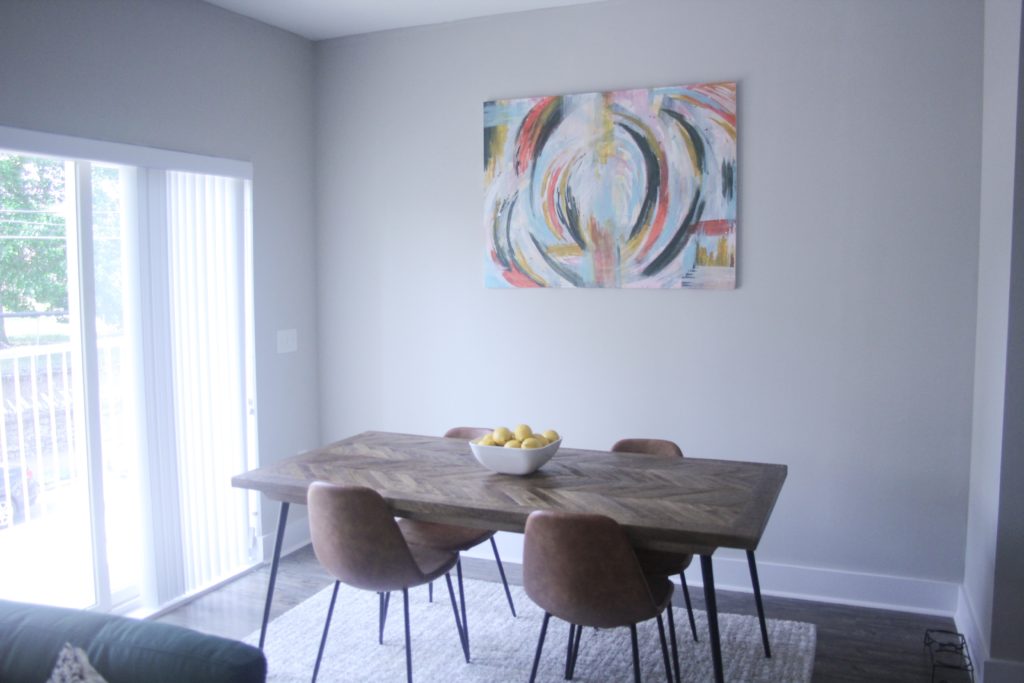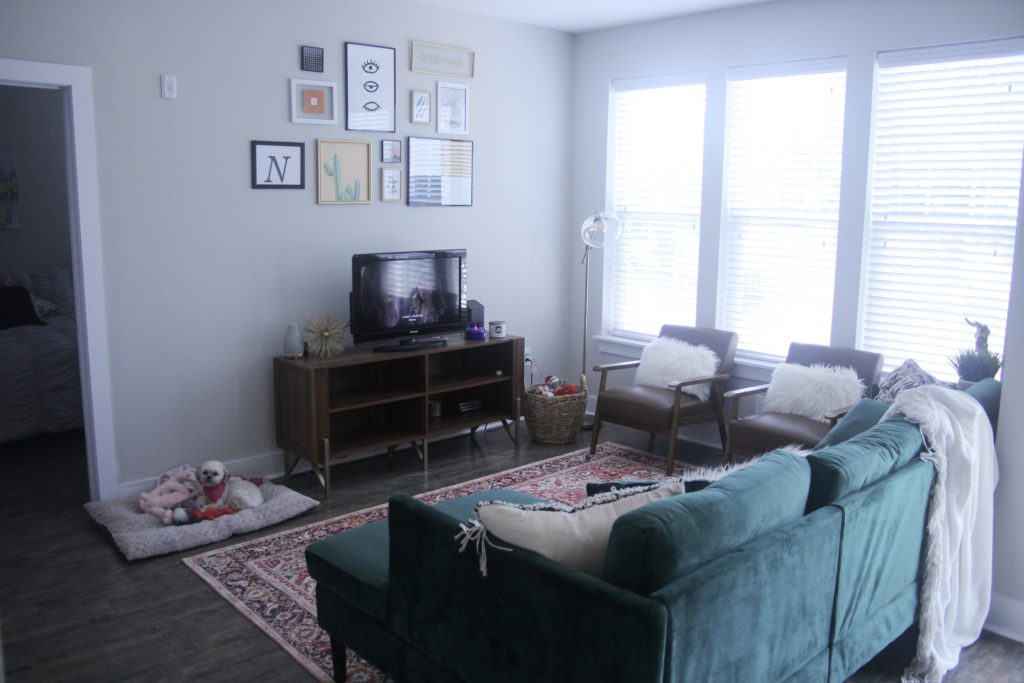 My second tip is FAKE IT TIL YOU MAKE IT BABY! I looked everywhere for a large piece of art to put above my table, but everything was over $100. So, I went to Hobby Lobby when they had 50% off canvases, and made my own art. I actually think I like the custom look more, because I was able to use the colors found in my rug!
I also loved the look of a gallery wall, but again I didn't want to spend a lot of money. Good ol' Hobby Lobby came through for me again with their frame sale. I purchased the photo of the cactus and the transparent "Good Vibes" sign, but I made all the other pieces! It doesn't have to be something crazy…in fact, that little orange square…it's actually a perfume ad from an Ulta magazine placed in a frame. And the little green pieces of grass came out of the pot on my side table. So basically, just spend a little time on Pinterest getting the overall design you want, then see how much of it you can actually make yourself! I saved at least $100, if not more, doing this.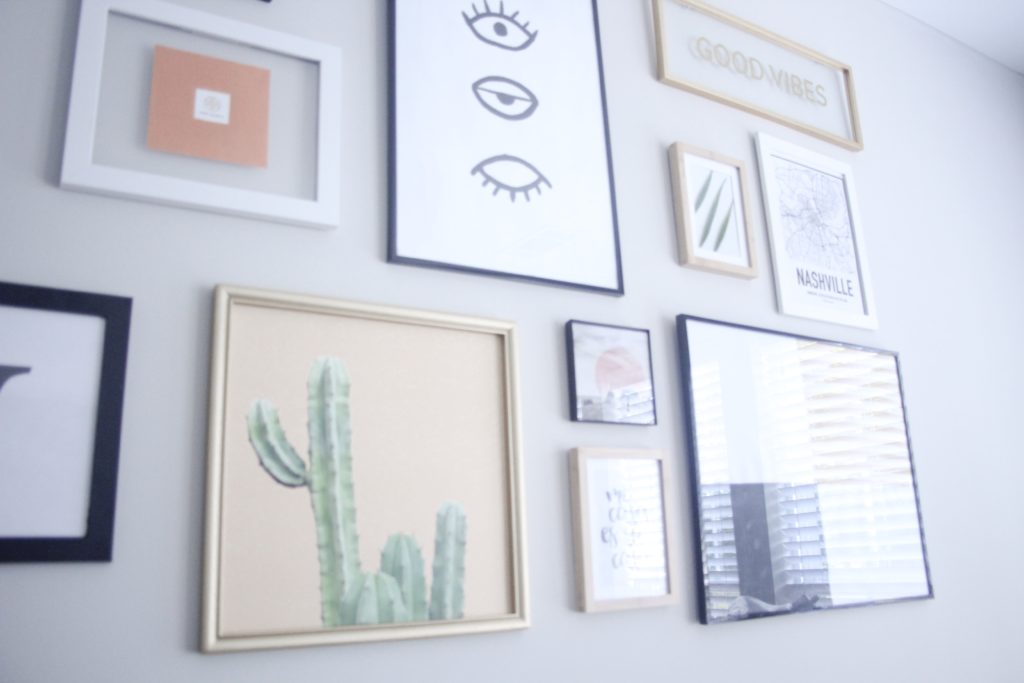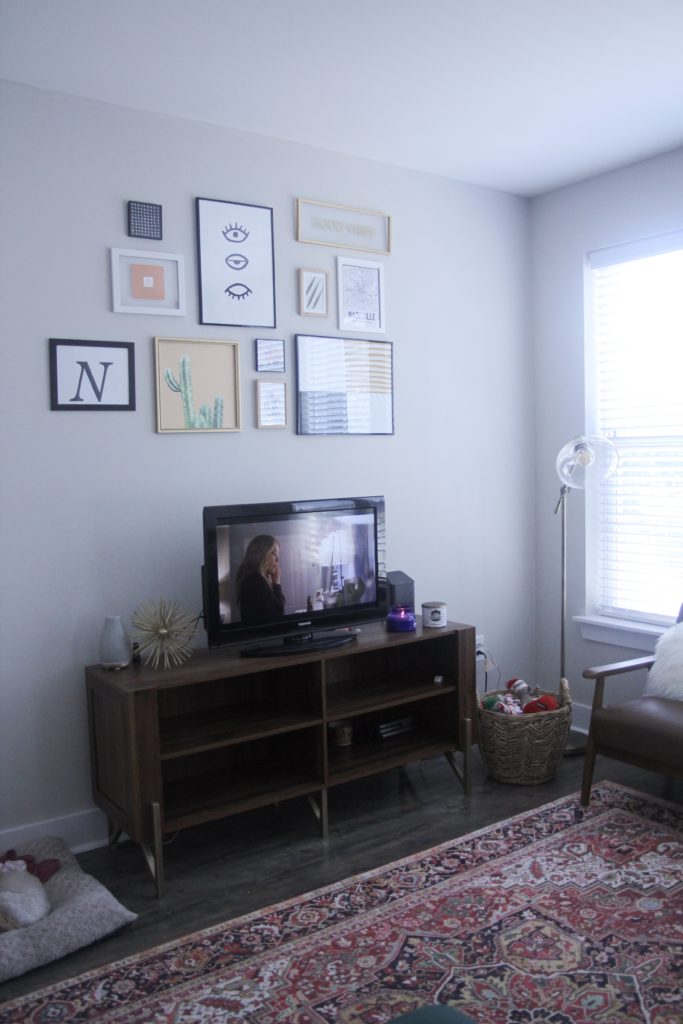 Let me just say, there are 100% supposed to be doors on this credenza. This leads me to my next tip…read the reviews AND trust them. When I purchased this, there was only 1 review on Amazon. It was a 1 star review complaining about the doors…but it was such a good deal, I convinced myself that maybe that person didn't know how to follow directions. Well HELLO KARMA, because guess what?! The doors were not made correctly and there was no way to attach them. Luckily, I received a refund from Amazon, but I definitely learned my lesson. If an item gets a bad review, there's a reason. I wish I had been a little more patient when looking for a credenza…maybe then the doors wouldn't be stuck on using command strips 🙂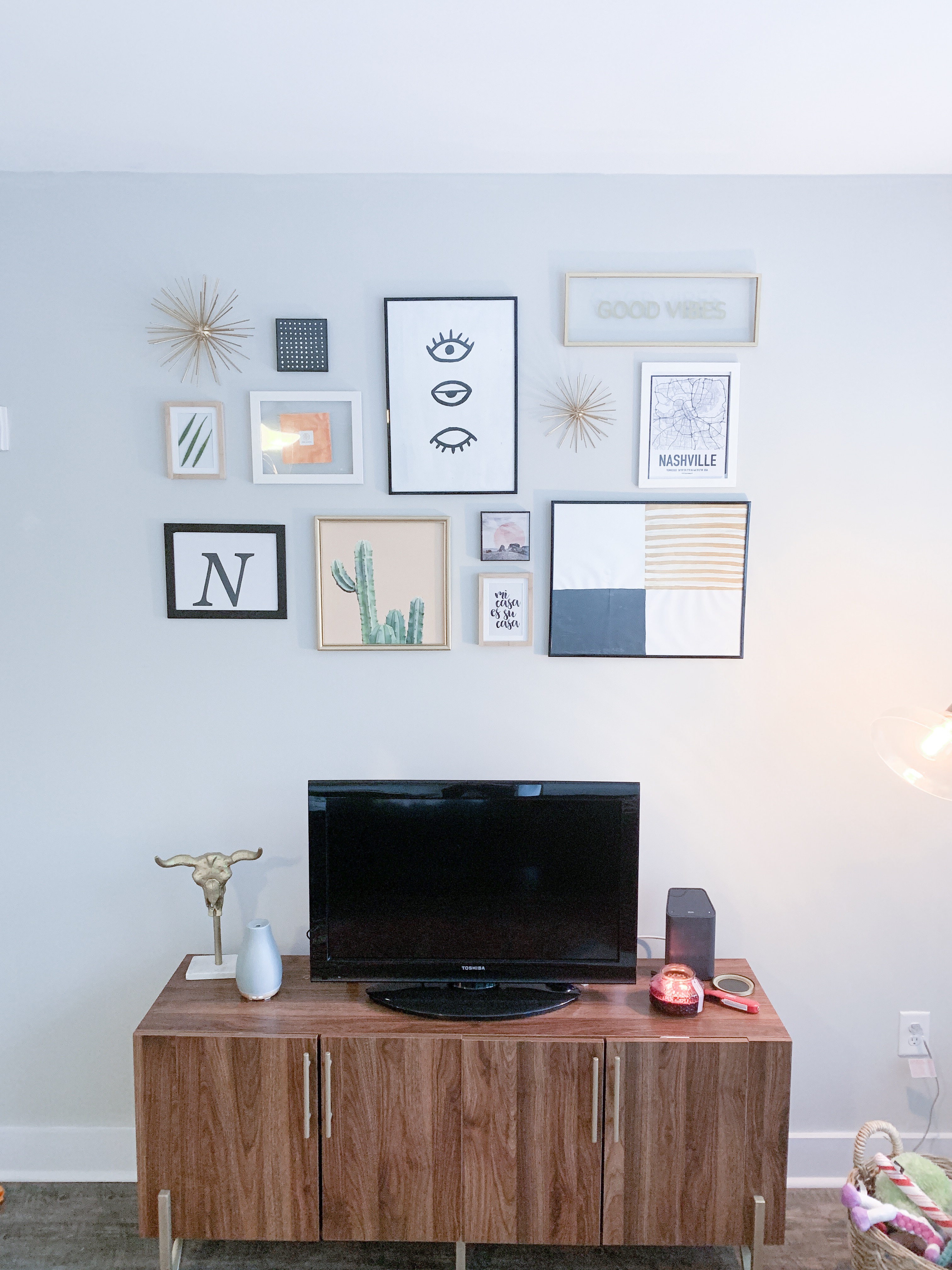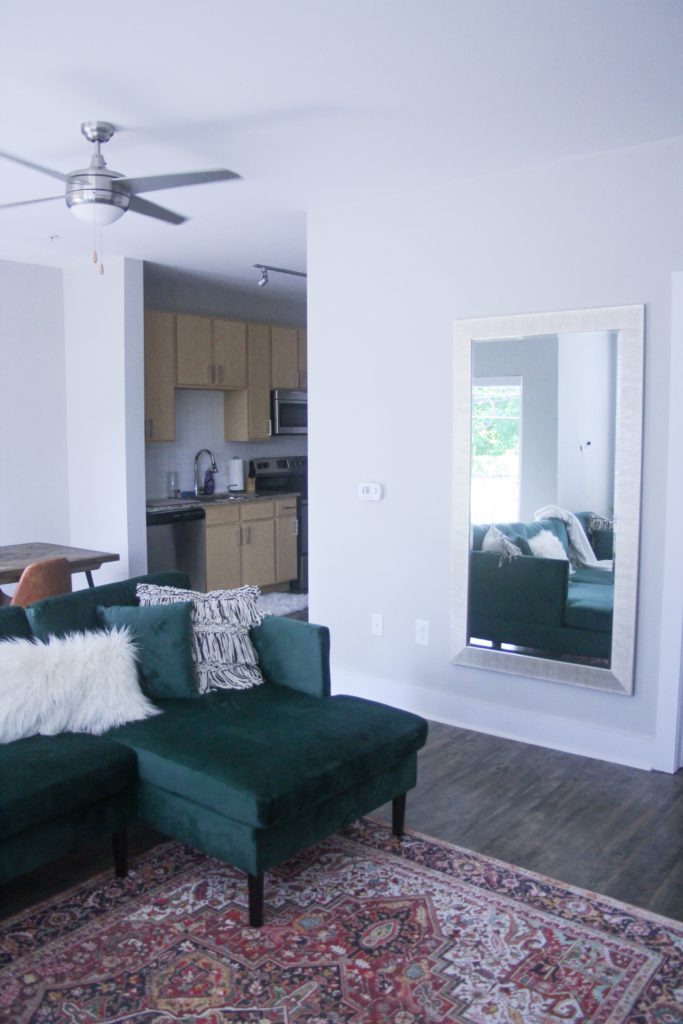 My last tip for a small space is get a mirror! Invest in a mirror and place it somewhere a lot of natural light will reflect off it…I can't tell you how much bigger and brighter your space will look. I swear it's magic.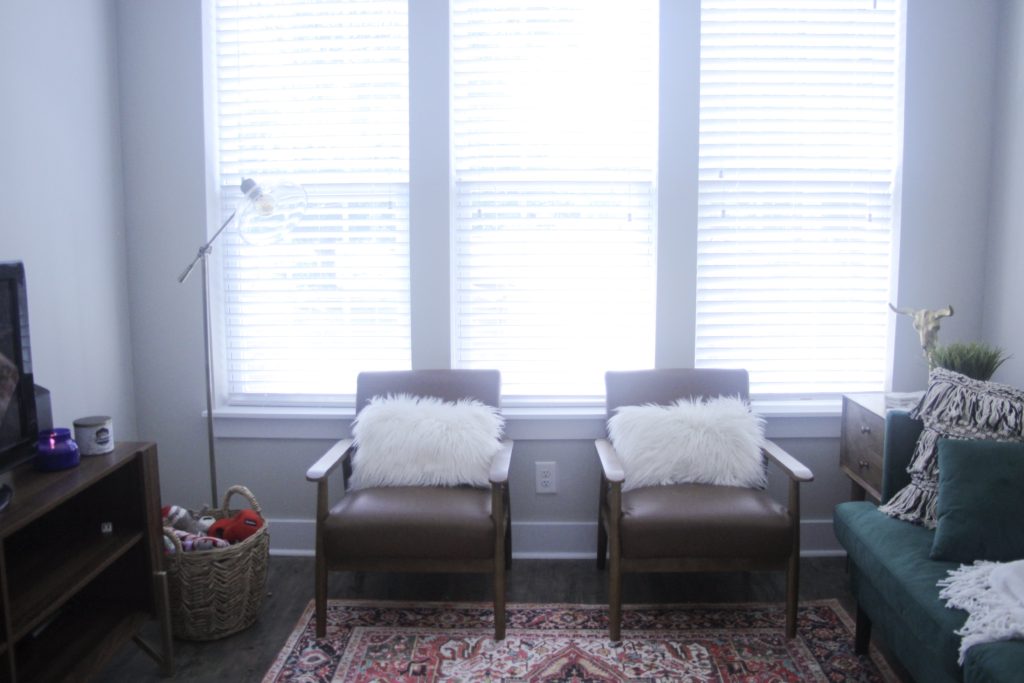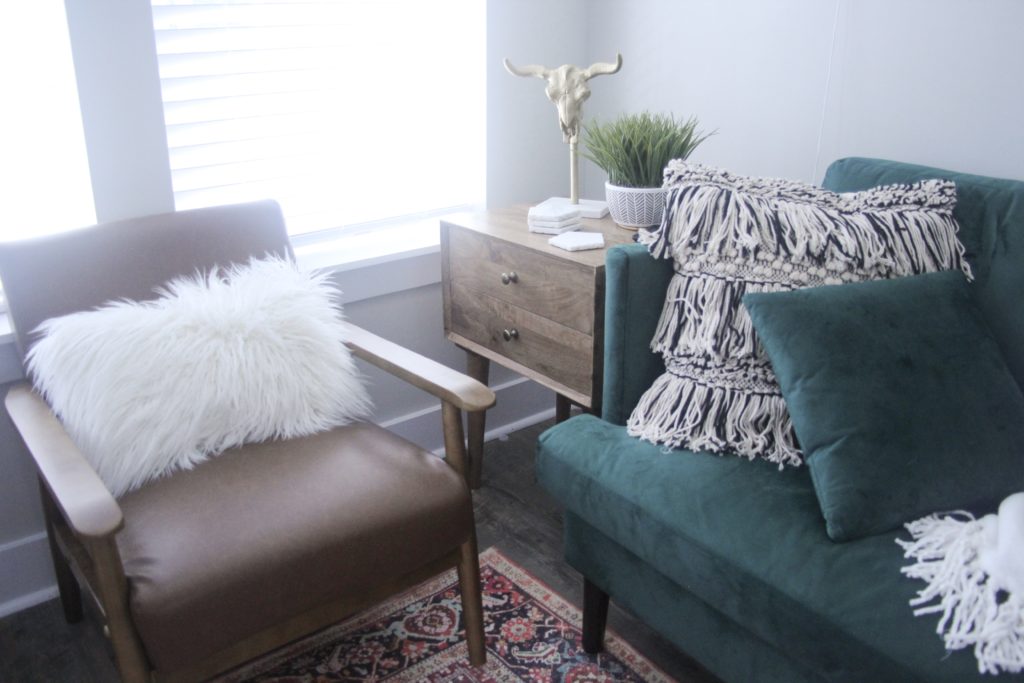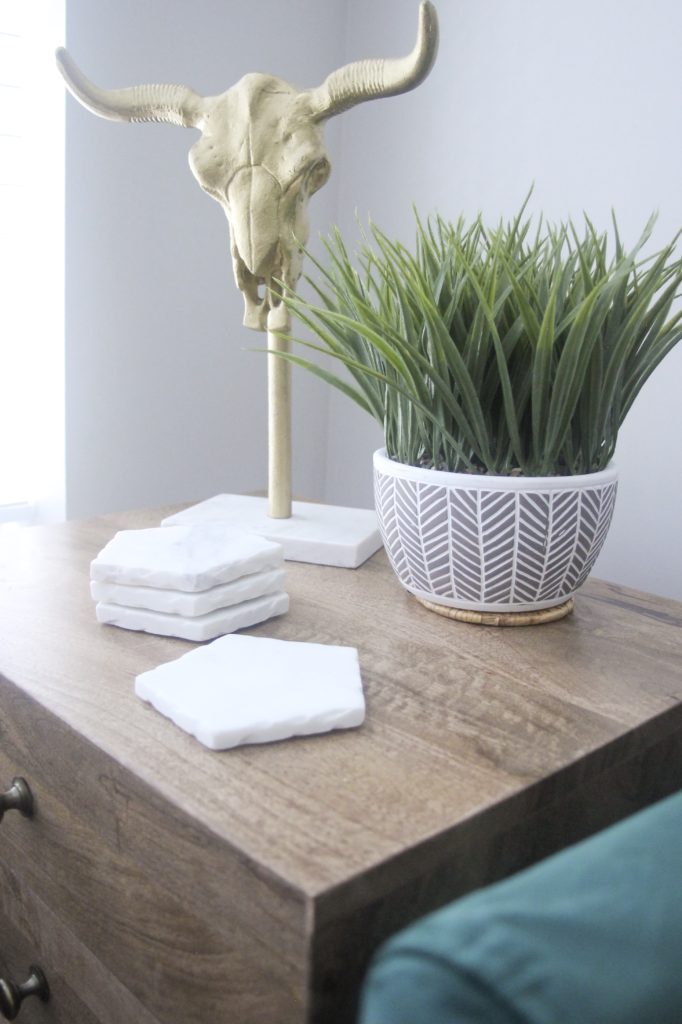 Overall my top picks were from Wayfair, Houzz, Target, Overstock, and Marshalls/Home Goods. I've linked everything below! (Some are not the exact pieces, but very similar.)